By now, it's no surprise to marketers that social media in general is a powerful tool (we actually chat more about that here). Many people, especially in the midst of this pandemic chaos, are using social media as an outlet to stay in touch with friends and family, be inspired by others and influenced by the latest and greatest lounge sets out there.
There is something extra when you're able to reach the right people, at the right time, blending into their feed while still standing out. The way you can casually reach users in a moment when they're open to new information and easily influenced is what most marketers are looking for.
Social media seems to be a platform that many brands find success marketing on, taking advantage of promoted trends. Yet, somehow, a lot of brands overlook some key channels when expanding their social media presence. Twitter is one of them.
So many of our clients come to us with hopes of Facebook and Instagram growth. Often, we also get the LinkedIn and Reddit requests. Rarely ever do clients come to us with a Twitter game plan, and we're here to change that.
Subscribe to our weekly newsletter for tips so good that we might put ourselves out of business.
Twitter, what is it exactly?
For starters, it's important to know what Twitter is.
You may think you know; Twitter is a platform to say what's on your mind, get insights on the latest trends and hot topics, stay up to speed on current events…
What you might not know is what Twitter is NOT. This is actually very important when considering Twitter in your 2021 marketing strategy.
With Twitter being the go-to platform for most to keep up with what's happening in the world, it definitely has its differences when compared to other social media platforms.
In many ways, Twitter is the outlier when it comes to social media. For you, the marketer, Twitter is different in a good way!
What Twitter Is NOT
As KlientBoost has learned from the Twitter experts themselves, Twitter is not a "look at me" platform. Now you're probably wondering what does that even mean?
Unlike Instagram selfies, Facebook group pics, TikTok dances, and Snapchat moments… Twitter is not a platform that you go to post your pictures, your life, or your story. I mean, you definitely can post pictures of your cat or some good ol' food porn if you'd like, but my guess is you won't have any followers or be setting too many trends.
Now that we've established what Twitter is not, let's chat about what Twitter actually is and how others are using it.
What Twitter IS
So we've established what Twitter is not. Now, what exactly is it?
In comparison to those other "look at me" platforms we just covered, Twitter is more of a "look at this" platform. For example, "look at this crazy news", "look at this new product", "look at this insane trend", "look at anything but me,"
There's a time and place for people to see "me" or "you" (head over to Instagram for that stuff!), but Twitter is not the place.
Twitter is where you go to discover; discover current news, trends, local and global events.
Twitter for advertising
Now, many of you marketers may be wondering how does Twitter play a role in my advertising plans then? If it's all about news and current events… I'm just trying to sell products?
And that's just it, Twitter is PERFECT for the discovery of:
NEW stories
NEW brands
NEW products
NEW content
NEW initiatives
And according to this article here, Twitter has 145 million monetizable daily active users - A.K.A. users who will see your ads! With predictions that this already large reach will continue to grow, how can this not be the perfect platform to incorporate into your strategy?
Twitter is a known brand, whether or not everyone uses it, and a reputable source for all the social proof you need to launch anything new.
Who Are Twitter Users and What is the Potential for Targeting
There are a different breed of people, interested and conversing about different topics on Twitter versus other social media platforms.
There's even more potential for advertising on Twitter if your target audience falls within these main categories:
18-49 years old
College-educated
City dwellers
With higher income
With that being said, there are several ways on Twitter to locate your target audience. Here's the nitty-gritty of targeting options on Twitter and how to create the perfect audience.
Targeting options
Twitter gives you several different options when it comes to building your target audience. They spread across the below main categories.
Current hot topics & events:
Whether major worldwide political events or more niche industry events, you can likely target them on Twitter if there's any kind of chatter around it.
Tailored audiences & exclusions:
This is Twitter's way of building custom audiences based on email list uploads, pixels, etc. A staple in PPC advertising for any channel.
Retargeting past tweet engagements for organic and paid (even specific campaigns) tweets: 
A great retargeting tool. Pick a certain campaign or post or choose to retarget all who have interacted with your brand before to keep pushing them further down the marketing funnel.
Expand & your followers:
Similar to other channels, you can click to expand your audience based on other users Twitter deems similar or even retargeting your Twitter followers directly!
It's important to know that Twitter audience creation varies from some other social media platforms in the sense that when you build and build and build onto who you're trying to target, you are narrowing your audience reach vs layering onto or expanding reach.
Audience creation
Understanding all of the options helps you dig down into what types of targeting is available. Now to get deeper into how you can actually find them.
Twitter allows you to create audiences utilizing the following:
Keywords
Events
Interests
Conversion topics
Follower lookalikes
Movies & TV shows
As well as some demographics such as gender, geolocation, and age.
Having a hard time coming up with ideas to expand? Click "Recommendations" and see what else is trending on Twitter that relates to your topic.
Best practices
Now that you know WHO to target and HOW to find them, let's cover some of the basics on campaign and creative best practices.
Campaign structure
It's best to know how to set up your campaigns for success. Having your campaigns set up the right way can definitely determine the delivery and scale of your efforts on Twitter as an advertising platform.
For starters, understanding the twitter advertising campaign objectives available to you in your Twitter account. Choosing between either of the following:
Reach
Video views
Pre-roll views
App installs
Website clicks (conv)
Engagements
Followers
App re-engagements
For direct response clients, Website Clicks can lead to conversions.
It's important to optimize towards your key metrics and allow Twitter's algorithm to help you drive results with your ad spend, but having KPIs and micro metrics that are relevant around brand awareness and not strictly click-through or direct response conversions, whether that be lead generation or sales. A good starting point for Twitter ads, especially when it comes to building your social networks and driving new followers, could be simply getting in front of trending topics and building your brand.
It also helps to understand your daily budget.
Now for campaign setup best practices, most marketers might not even know.
On many channels, we group and make campaigns as high level as possible. Brand and Nonbrand on SEM, TOFU, BOFU on Social… There are many different views and strategies out there from top marketers in the industry that might not agree with what I'm about to say. But hear me out:
The best formula for setting up your Twitter ads campaigns is:
1 Campaign - 1 ad group - 1 ad
(ok, ok… 1-4 ads could work too).
The reason for this is simple: deliver on every audience and every ad placement. Delivery drives data, which drives results. Once you start seeing the performance come in, you can always adjust for what works best.
The rest is simple. At the ad group level, you set your bids, create your target audiences, confirm placements and select creative!
Creative
On Twitter, you have different ways you can utilize creative to drive results. Different ad types and ad formats consist of cards and tweets. And cards require tweets! Confusing, I know.
Cards:
You can do image, video, gif, or carousel
Tweets:
Where you launch your cards or just plain text ads
You can head to Twitter to learn more about the specific specs on images and videos and ratios of all the optimized sizes per placement, but know that short and direct response type ad copy is still recommended for most advertisers even if they do give you all 280 characters to get your message across.
Creative best practices might vary for Twitter ads versus other social media advertising channels as well. Simple and to the point applies to not only ad copy as well as video lengths and is important across many channels.
Specific to Twitter, however, is anything that helps your ads stand out on a platform where there's so much information. Show personality, utilize emojis, hashtags, and cashtags. (Never heard of cashtags? Check this out.)
It's also important to help build up your social proof and make your content go further by utilizing retweets. Take advantage of the work you're already doing on the organic side and promote it in a promoted Tweet for paid ads. Twitter marketing can be more formal in the ways you design and target your ads or more casual when tweeting and retweeting content that you know is performing well in real-time.
Having a clear CTA and landing page for your daily budget and Twitter marketing efforts will help drive your overall digital marketing results.
The best of the best on Twitter Ads & Promoted Trends
Best practices are helpful, but let's put this into action with the top tips and tricks for Twitter advertising from our experts at KlientBoost. What makes Twitter advertising stand out versus other Social Media platforms.
Tips and tricks
Utilize the reporting available to you! Within the dashboard, you have access to features such as saved reporting views and different filters to help narrow down your campaigns. Also, utilizing exports of your reporting allows you even more insights into your performance like geolocation and time reports.
Many advertisers are unaware, but on Twitter, you can even utilize Tweet Analytics in the top navigation bar and narrow in even further on what your audiences are considering top performers.
Creative revisions on Twitter might seem a little easier as well! Ads are created at the card level and shared across many different campaigns/placements. With that, editing ads in bulk becomes easy as you just have one place to do so! There are other ways to do bulk editing as well, by utilizing the bulk editor and import tools.
Twitter also has Media Studio. By housing all your assets in Media Studio, you can easily go back and reference creative used on your profile organically.
Twitter ads making history - Top 10 Twitter Moments Last Year
Let's end this with the best of the best examples on Twitter. And we can't do that without covering the infamous Popeye's Chicken Sandwich.
When your ads, innocently enough picturing savory fried chicken sandwiches, starts what will later be known as the "great chicken sandwich debate" and sell out Popeye's locations everywhere of their new chicken sandwiches, you know as a marketing expert that you've accomplished the dream.
When you're up against a company like Wendy's, where the marketing is already sassy and cutthroat, Popeye's made some big bold moves that moved them to the tops of the "fast-food chains."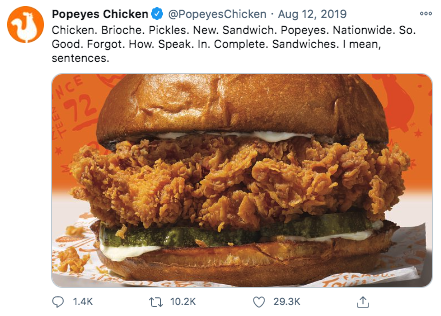 To know Twitter history is also to know the feud between Cliff Bar and Kind Snacks. Not many ways to gain attention on a platform full of so many different demanding topics and politics, but starting a war with your competing brand is definitely one of them.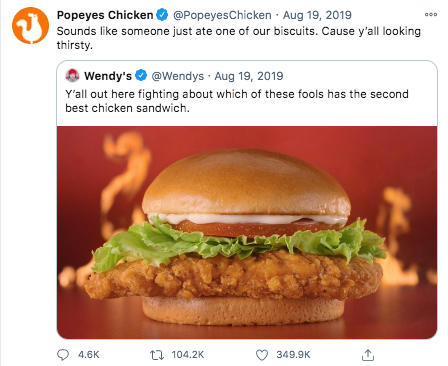 The months-long rival of the two brands just last year prompted much chatter around the brands and went viral on multiple platforms taking over TV commercials and Facebook. The debate continues on whether or not this PR stunt was as great for the business as it was entertainment for the world, but either way brands and names were made famous because of it.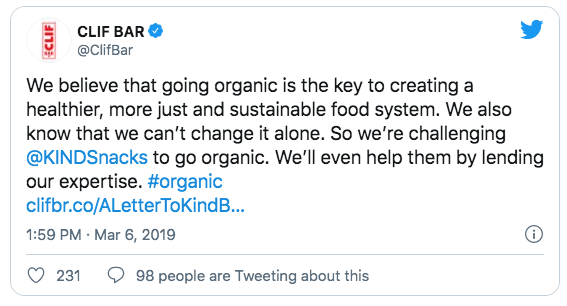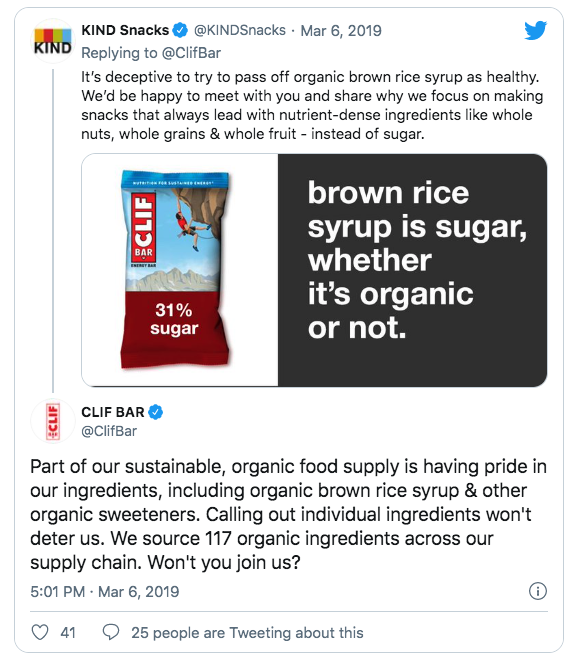 There's a lot of great Twitter ads out there. More recently, these are our (and Twitter's) top picks and promoted trends:
Uber in the midst of a pandemic and time of need.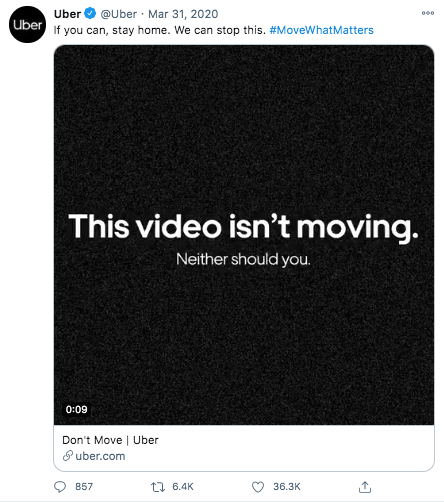 Reaching over 23 billion impressions, Small Businesses took the trends on Twitter conversations September 1st - November 29th with hashtags driving the conversations like #ShopLocal, #ShopSmall, and #SmallBusiness.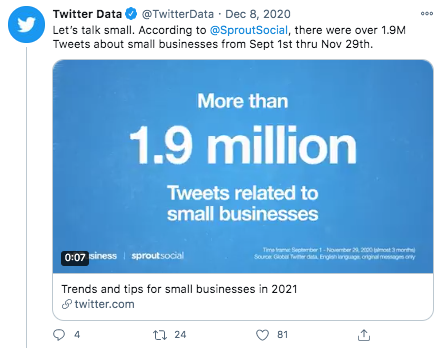 Talk about great emoji game, Dreamworks Trolls took us through the steps of a great evening watching with everyone else at home their Trolls World Tour live.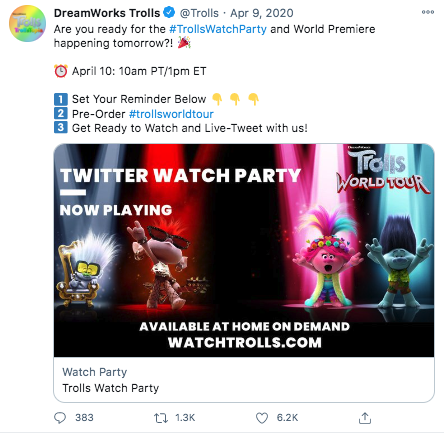 Many Tweets like these out there this year, rallying the community for the continued support of Manny's Deli during these hard times.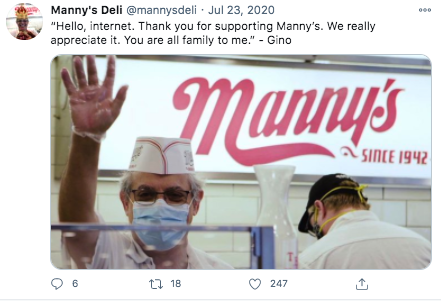 So many people also played a part in the #StayHome hashtag trend this year on Twitter. Getting through this last year apart, together. Sharing fun ways they're passing their quarantine time.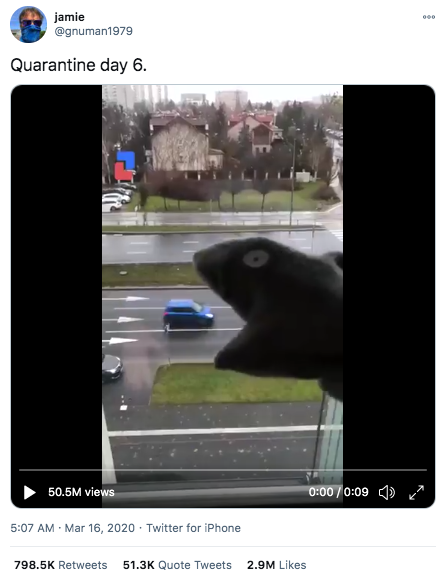 In general, 2020 on Twitter the times have changed. Twitter data shares that the Haircut emoji usage decreased by 32% and Beard emoji usage increased by 102% as of September 2020.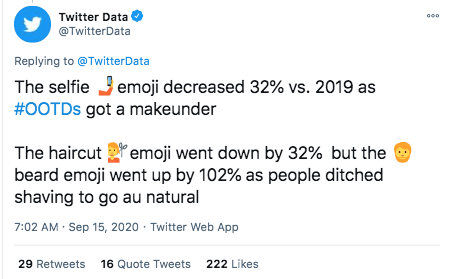 And lastly, taking a stand on Twitter doesn't have to come from political leaders and organizations. Talking politics on Twitter is a clear win, and Ben & Jerry's did it well when they used the platform to stand up and speak out.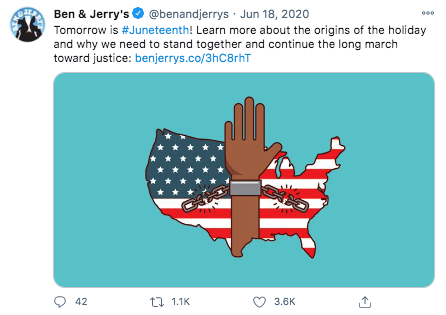 Now that you've learned how to create Twitter ads with the best audiences and targeting possible, it is your turn to take the wheel.
Let us know in the comments whether you have ever tried Twitter advertising and how it has been for you. We know it isn't the most commonly used platform, but with these tips and tricks, you are sure to get some excellent results.