92% of all customer interactions occur over the phone.
That's a lot of opportunities to make conversions…and a lot of opportunities to lose conversions.
Best case scenario, you successfully convert most of your customers, secure money, and get valuable customer data to boot. Worst case scenario, you miss out on numerous conversions, miss out on a fair chunk of change, and have no customer data to inform your future decisions.
So the question is, how do you make the most out of your phone calls?
The answer? Call tracking software.
Get brand new conversion strategies straight to your inbox every week. 23,739 people already are!
What is call tracking?
Inbound calls are calls initiated by customers, whereas outbound calls are initiated by you and your team; call tracking allows the tracking of inbound phone calls to be associated with Google Ads and other digital marketing tools across your marketing channels.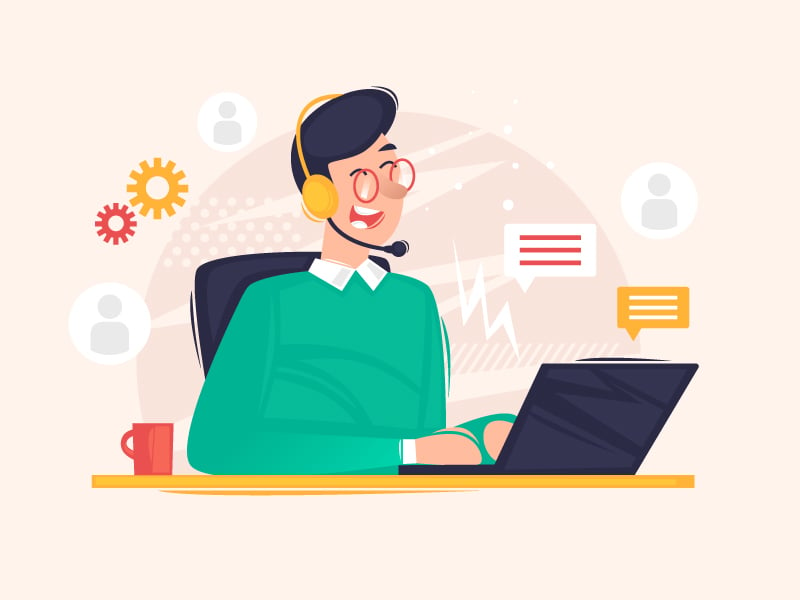 This technology is incredibly useful for lead generation and a useful way for businesses to learn about the demographics of their customers, such as the source of the incoming calls (i.e. a particular landing page), locations they're calling from, duration, popular call times of day, and in some PPC efforts, the keywords associated with each call.
By utilizing call data from a call tracking software for your online and offline campaigns, you'll be able to analyze campaign performances more effectively, and ultimately, see which campaigns are making you more money.
The benefits of call tracking
Phone leads are great for conversion rates and. In fact, 41.2% of sales reps consider phone calls to be their most effective sales tool for their marketing efforts. 
We all know the main benefit of tracking data is finding out information about your callers, but what you do with that information is what makes call tracking truly helpful in optimizing your marketing campaigns.
The proof? In two months, Logix Federal Credit Union increased its conversion volume by 50% after we implemented our strategies, including call and conversion tracking.
Below, we've outlined a list of important metrics you can get from call tracking that will help you increase your conversion rate.
Identify top-performing landing pages
By either manually assigning individual numbers to your campaigns or implementing software that does it for you through dynamic call tracking, you can see which landing page is bringing in the most calls. This is perfect for A/B testing. You can't see it on the below screenshot, but the number at the top changes dynamically.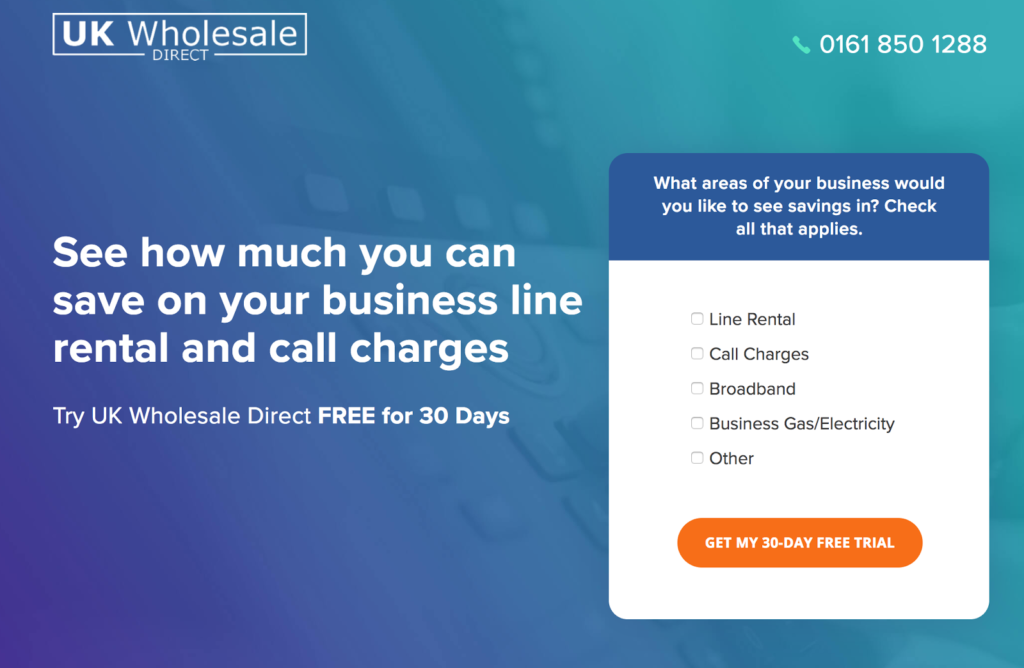 Discern call sources
Most call tracking platforms allow you to track which sources the calls are coming from. In the case above, all calls came from paid Google and organic Bing. Direct will also show up on most platforms.
Count the number of calls
Use call tracking reporting to view the number of calls as well as see the overall trends and patterns associated with these calls. Once you have enough data, you can compare the data that fits your goals the most.
Distinguish peak call hours
Call tracking reporting allows you to see which days of the week and time of day are bringing in the most phone calls. It's a smart idea to use this data to make time bid adjustments in Google Ads.
Pick out high-value keywords
Just like setting up Google Ad campaigns with the SKAG structure, the more granular you get with call tracking, the better. Implement keyword tracking to see which keywords are bringing in the highest valued calls.
The screenshot below is a quick example of information you can see from a standard call tracking platform:

How to determine the best call tracking software for your needs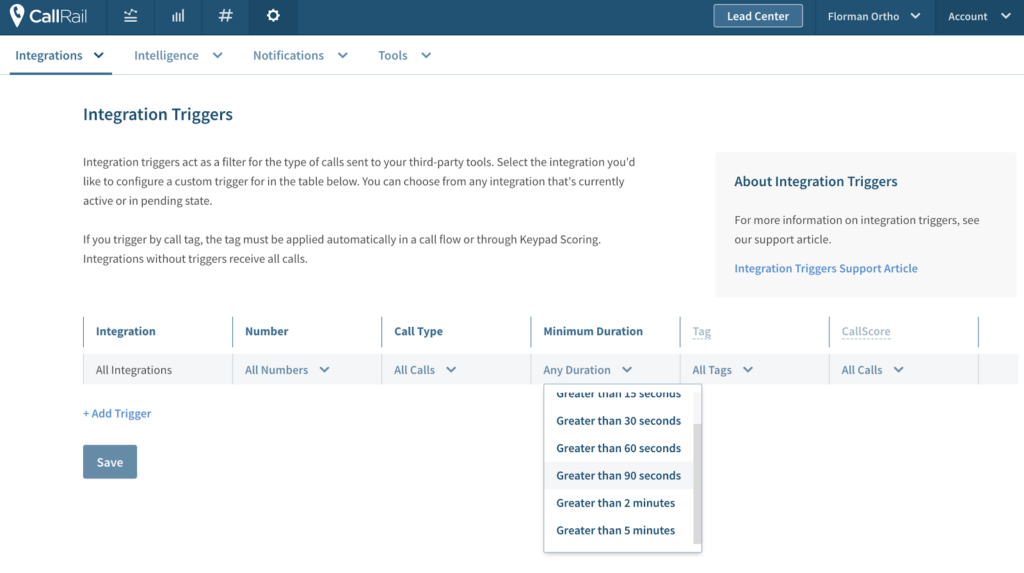 Although each platform has its own setup, here are a few key features you'll want to check for as you determine which call tracking solution is right for you.
Ease of use
If your call tracking software is hard to use, what's the point? Call tracking implementation shouldn't be a big lift for your team.
Ideally, you want software that's easy to install, implement and analyze. With so many different softwares, there are plenty of user-friendly options that will help make call tracking easy.
Customizability
Call tracking software might be the all-in-one solution you need, but that doesn't mean it's one-size-fits-all. So, you want to make sure that your software is flexible to address your company's unique needs.
Scalability
Let's say you have a team of 20 employees right now. That most likely won't be the case in two, five, or ten years. Are you going to be able to use the same software you use now, or will you have to change it?
In most cases, you'll want to stick with the same software because it's more convenient than switching over. With that being said, you'll want to check to see if the software you choose can scale with your company and what the pricing looks like for your ROI.
Keyword parameters
It's crucial to track conversions in Google Ads, but it's also important to see which keywords are associated with every call in each call tracking platform.
Just like any other UTM parameter, you can do this in Google Ads at the account level with a tracking template. However, the actual parameter will vary depending on the call tracking platform.
Dynamic call tracking
The best way to track calls is to implement dynamic call tracking.
This allows you to assign a phone number pool of several numbers that swap out on the landing pages based on a visitor's IP address to keep tabs of different data (source, landing page, campaign, keyword, etc.). It's basically like dynamic text replacement specifically for phone numbers.
To install dynamic call tracking, most platforms just require you to insert a simple code of Javascript that will automatically swap the phone number on your website to the number pool.
Specific source tracking
Specific source tracking is useful for comparing your spending and clicks to determine effectiveness and cost-per-call.
Call attribution can track calls by connecting phone numbers to data from several different kinds of ad sources, like keywords or campaigns. And fortunately, platforms such as Microsoft and Facebook (Meta) support conversion tracking for phone calls as well.
Similarly, dynamic number insertion connects a unique phone number to each ad source to help marketers analyze offline behavior.
Google Analytics and Ads integration
Once you start getting calls, the next step is tracking and integrating these calls with your marketing platforms.
In most third-party call tracking platforms, you can do this by integrating Google Analytics with the call tracking platform of your choice and setting goals that import to Google Ads.
This data will help you determine which campaigns, ad groups, and even which keywords are bringing in the highest amount of calls.
To learn how to set up call tracking, read this article by Google Ads.
CRM integration
If your goal is to use a customer relationship management (CRM) tool (i.e. Salesforce, Hubspot, etc.) for sales, you want to choose a call tracking software that integrates well with your choice of CRM.
Call duration time
You need to have software with the "call duration time" feature in order to understand which campaigns are generating the longest and most in-depth conversations (AKA the calls that are more likely to translate into conversions).
In most call tracking platforms, you can adjust settings to the call duration time that would be deemed as a qualified lead to avoid counting low-quality leads as conversions in Google Ads.
For example, if the software has this feature, you can set up a trigger to only count calls greater than 5 minutes as a conversion. This will help weed out these low-quality calls and give you a clearer and more accurate picture of the data.
Call recording length
Call recording is one of the most effective training tools at your disposal.
Most third-party platforms allow you to record your calls, which can help you identify areas of strength and weakness among your customer service team, as well as determine the quality of calls. With call recording, it can be easy to narrow in on trends and come up with feedback for your team.
Real-time call analytics
Wouldn't it be great if you knew exactly what to say to your prospective customers?
Well, with real-time call analytics, you can deliver personalized customer experiences while you're on the call with them. Considering 85% of customers report being dissatisfied with their phone experience, this feature is a must.
Conversation intelligence
If you're looking to optimize your call tracking to the max, use software with conversation intelligence. This technology creates transcriptions of your calls, uses AI to analyze them, and then gives you insights, so you can easily use these conversation analytics to help your team.
5 call tracking best practices
Once you've set up your platform of choice, utilize the best call tracking practices below to lift your marketing strategy further.
1. Test your calls
In some cases, a call tracking number may be entered incorrectly or may not route to the correct phone number. Avoid this error by calling these phone numbers to ensure the call will reach the right place.
2. Listen to your calls regularly
To improve account performance, it's a smart idea to listen to your calls regularly. You can use these calls as insight into what's working and what's not working.
3. Make sure your clients are answering their calls
If you're working with a client, make sure your clients answer their sales calls.
Customer journeys heavily rely on the people who answer the calls. Listen to the calls for quality assurance and make sure your client is making the most of these calls.
4. Take advantage of call routing and call flows
Utilizing interactive voice response (IVR) menus to interact with callers through voice or keypresses can save you time as it takes care of routing calls through automation. This phone system would be most useful for call centers or large marketing teams versus small businesses.
Additionally, if you have reps that are better at closing certain types of leads on your sales team, give the first chance of closing to the employee who has the highest closing rate.
5. Dedicate specific PPC phone numbers to certain campaigns
Dedicating specific PPC phone numbers to specific campaigns will allow you to see if you can generate calls before the visitor gets to your landing page.
Now you're dialed
That's your guide on all things about call tracking.
Although it can be quite simple, it can yield detailed insights to help you improve your conversions beyond your wildest expectations.
If you need help with your call tracking, we're here to help.
"I started my partnership with KlientBoost by telling them that I needed help tracking conversions. I've had previous agencies tell me in the past that they were able to track calls & conversions within Google Ads, but they weren't able to physically show me this data. KlientBoost has been able to do this for me plus more! Very happy with the progress & excited to see what the future has in store for us!"

Pat Riley, Founder & CEO of Riley Motor Company (View full case study.)