I want to take you back to memory lane when you were 16 years old and a hopeless romantic.
You've just had the most amazing day with your new crush, flowers are blooming, sun is shining.
Nothing can go wrong.
But then a couple weeks go by and you're not sure what to call each other, boyfriend-girlfriend?
Special friend?
So you need to DTR. DEFINE THE RELATIONSHIP (Not Del Taco Run).
Where is this going? How fast? Is this the right person? Etc, etc.
This can be one of the best and also worst times of your life depending on the answer.
Now you're probably wondering, what the heck does my love life have to do with increasing my email performance?
The answer is… EVERYTHING.
Assume your significant other is your email marketing campaign, you think you're in love because they give you free sales? (Meaning no ad dollars to acquire the purchase, so email is theoretically a free channel for additional revenue) but not sure how things are going to work out long term.
You may ask: "Can I really get free sales forever?"
Easy answer, YES.
But it takes work, do you have what it takes to turn your email automations and campaigns into a lifelong partnership?
Well every relationship needs the right amount of TLC (tender, love & care), and your email campaigns are the same.
I'm going to show you through this article how focusing on eCommerce email TLC will make that lifelong relationship a successful one.
What is email TLC? They are our 3 pillars or types of eCommerce emails:
Transactional Emails
Lifecycle Emails
Content & Promotion Emails
Subscribe to our weekly newsletter for tips so good that we might put ourselves out of business.
Transactional Emails
A transactional email is a type of automated email between a sender and a recipient. These emails are triggered by events, interactions, or preferences within a service or application.
What types of transactional emails are there?


Order Confirmation/Receipt Email
These emails typically have the highest open rate, around 80%, because the recipient has their confirmation number, receipt, and shipping information within this email.
How to improve this email:
"Seed" Related Products - Now that you have a customer, it's not always about forcing new products you want them to buy down their throat on the receipt email, just because you know it has a high open-rate.

An amazing example comes from Chris Orzechowski's analysis of an email by "Baked By Melissa".

After writing a handwritten (then screenshotted) thank you letter, she proceeds to give some recommendations on other products her customers have enjoyed. Beautiful foundation and "seeding" the right message into the minds of hopefully repeat customers.
[caption id="" align="aligncenter" width="590"]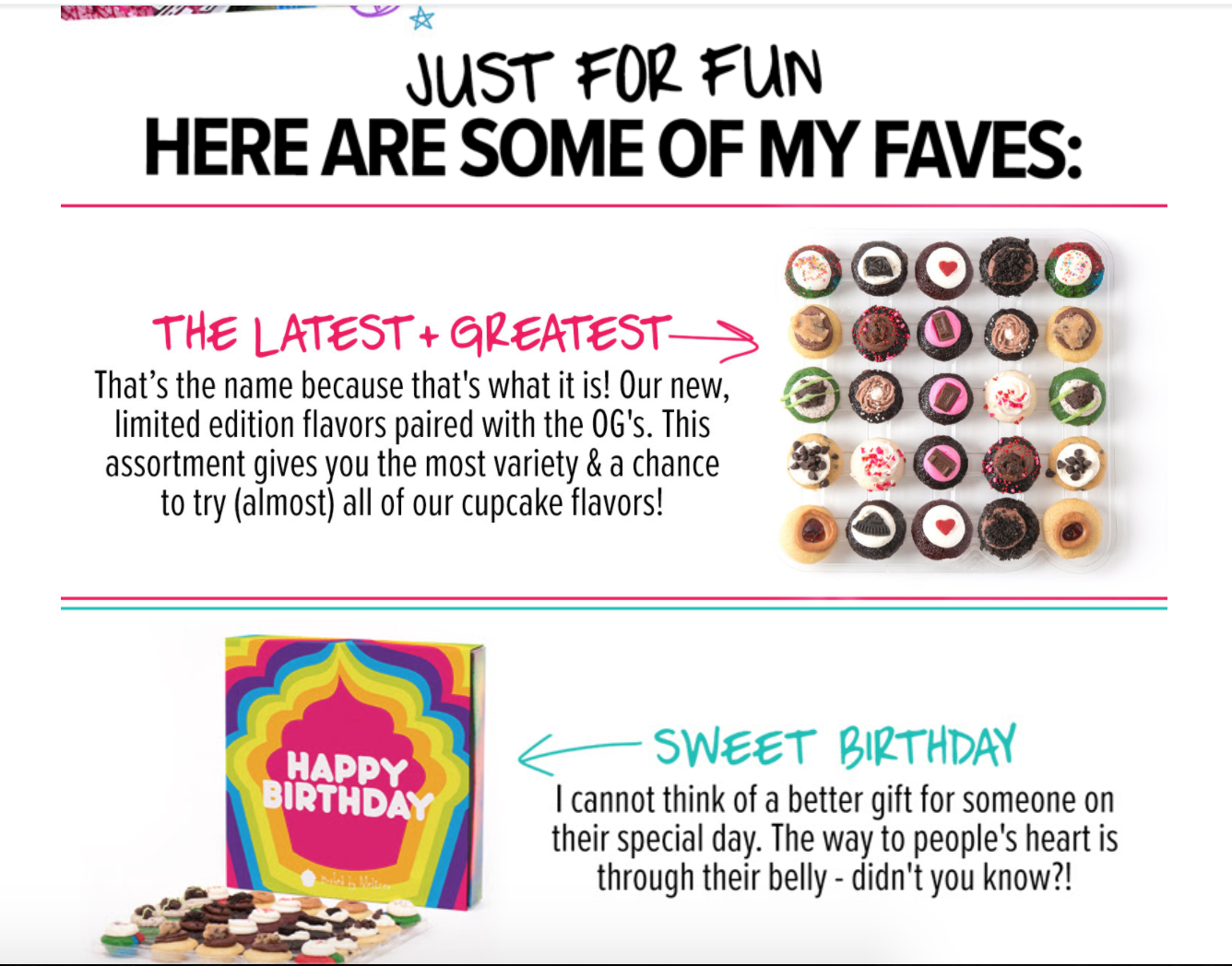 "Baked By Melissa" order confirmation email[/caption]
When determining which products or services to recommend, programs like Google Analytics and Glew can deliver business intelligence, alerts, and automation to help you generate more revenue, cultivate loyal customers, optimize product strategy and drive profitability.

Offer Discounts - On their next purchase. Encourage them to continue shopping by giving them an incentive to purchase again. Maybe there is something else they wanted to purchase, but didn't, now you have provided them with an incentive to buy.

Ask Them to Join Your Community - Whether it's liking you on Facebook, Instagram, or Twitter, joining your loyalty program, or subscribing to your SMS, this is a perfect opportunity to grow your community.

Include a Referral Link - For them to share with friends and family. A referral link, also known as an affiliate link, is the URL that allows a company to promote their products or web content by tracking it.

It contains the affiliate ID that tracks how visitors arrive at a website. It's generated when a visitor is converted into a customer by submitting a form or buying a product. By having your customer share a referral link, you can give them rewards for every purchase made with the link, giving you free marketing to the website.
Tracking Update Email
A tracking update email is just that, an email that provides you with an update on the status of your package, typically including a tracking and order number.
How to improve this email:
Make It Easy - For your customer to track their order. Have their order number and tracking number prominent in the email. The tracking number should easily connect to your delivery provider with a clear update on the status of the package on its shipping journey.
This is a key to your customer's experience and their willingness to come back and repeat purchase. We were all kids once waiting in the mail for a letter or package we couldn't wait for. That aspect still dwells in people and shutting off their ability to watch the movement of their package or making it hard to reach, will burn a negative taste in your customer's mouths. Focus on experience, when it comes to your tracking update email.
Include Personalized Product Selection - If you're using Klaviyo, this is an easy addition. When adding a product selection at the bottom you can choose to have these products dynamically chosen off of other similar buyer behavior.

Customer Feedback Email
Customer Feedback Emails - Emails in which you ask the customer for feedback on their experience or purchase.
How to improve this email:
Simplify the email. Stick to a simple design, a clear message, and remove unnecessary imagery and headlines.

Make it personal. Use the customer's name and include their previous purchase within the email, this will result in them being more likely to respond or react to your email.

Offer an Incentive. By including an incentive offer like a discount or a free gift, your customer is 30% more likely to provide feedback.

Have a defined call to action (CTA). Whether it's a survey, rating, or review you're asking for, clearly define the CTA so the customer is able to quickly and easily supply feedback to your team.
[caption id="" align="aligncenter" width="590"]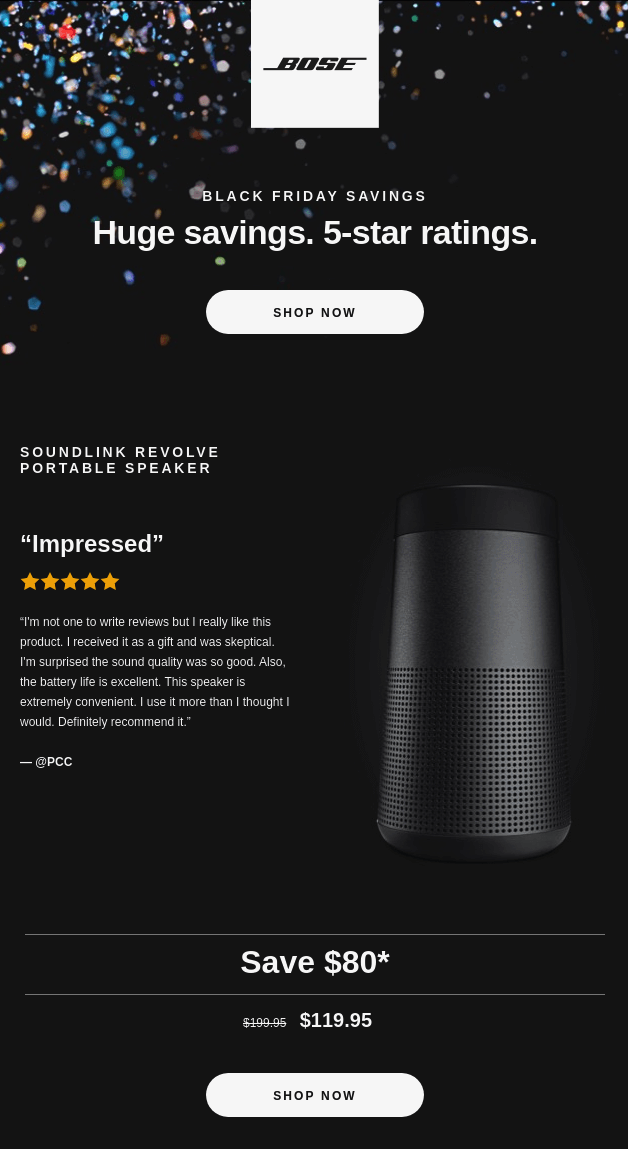 "Bose" review email[/caption]
Lifecycle Emails
A Lifecycle email uses data and considers the stage of the buyer's journey – prospect, first-time buyer, repeat customer, lapsed, etc. – to send automated emails to encourage purchasing at all stages of the buying process.
What types of Lifecycle emails are there?


Abandoned Cart Email
Abandoned cart emails are sent to customers who have added products to their cart but did not follow through with a purchase.

These are highly effective emails, and according to Elasticpath, over ⅓ of clicks from abandoned cart emails result in a purchase on your website. Additionally, for every abandoned cart email sent over $5 in revenue is delivered to your site.

How to improve this email:
State it in text. Use text to tell them exactly what they have abandoned in their cart and that it is still waiting for them with a link to the item.

Offer an incentive, only on 3rd email. Did you know nearly 70% of users abandon their cart? This is a massive opportunity for eCommerce stores to capitalize on retrieving lost revenue.
One mistake stores make in this automation is training their customers to abandon and wait 1 hour for a discount code.
This may be what they NEED to convert, but stick to compelling messaging and emphasizing the key value propositions of your product in emails 1 & 2 of your abandonment series.
Then… offer them a timed discount or free gift only when all signs point to being lost to help regain that purchase.
Use a single CTA. Keep it clear and keep it user friendly. By adding a single CTA/button, you will guide the customer directly back to their cart to finish off their purchase.
Your CTA should encourage customers to complete their purchase with phrasing like "Buy Now" or "Continue Shopping."
Send it in a series. Omnisend found that a series of emails are more effective than a single email.

Email 1: Send it 1 hour after the cart has been abandoned
Email 2: Send it 1 day after the cart has been abandoned
Email 3: Send it 3 days after the cart has been abandoned, this email is most effective when it includes an incentive.
[caption id="" align="aligncenter" width="590"]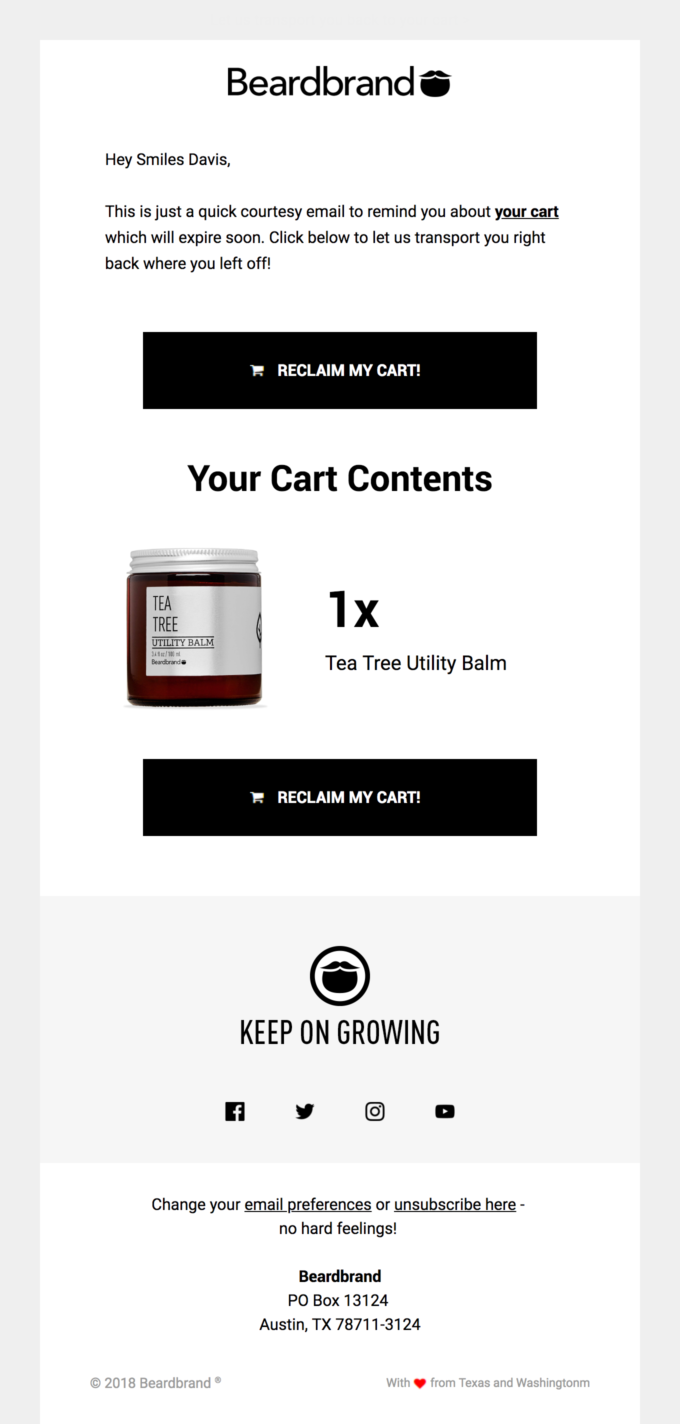 "Beardbrand" abandoned cart email[/caption]
New Email Subscriber
A new subscriber email, or welcome email, is your company's first communication with your potential new customer. Welcome emails set the tone for future communication and give your prospect the first impression of your business.

Welcome emails generate 320% more revenue than promotional emails, so it's important to knock this email out of the park.

How to improve this email:
Send it immediately. This email should be sent within minutes of your new subscriber signing up. 74% of people expect a welcome email when they join a mailing list and only 57% of businesses send them.

Give a warm welcome. You are setting the tone for all future communication so be true to your brand voice and welcome your new subscriber to your community.

Don't be sales-y. This can be tough because you want to gain their business and generate revenue, but your first email should express value, not sales gimmicks.

Deliver what you promised. Did you offer an incentive to drive them to subscribe to your email list? This email should clearly include what every incentive you promised.
Whether it be a discount, gift, or guide, make it easily accessible and usable in this email.


Upsell/Cross-Sell Email
As stated above an Upsell email is a sales technique used to get a customer to spend more by buying an upgraded or premium version of what's being purchased and a cross-sell email is an email that encourages the buyer to shop for similar or complementary products to the ones they have purchased.

How to improve this email:
Target ancillary products. By tracking what your customer is looking at, has previously purchased, or left in their cart you can include the ancillary products to that purchase in this email. Think of this as a "you may also like" or "people who purchased XYZ also purchased these items."
This is an easy way to increase revenue by anticipating your customer's needs.
Discount Ladders - having a hard time finding info on this to make sure I have something to cite, do you have an article in mind I can use?

Win- Back Email
Win-back emails are emails designed to re-engage inactive customers or subscribers to motivate purchases after the subscriber has stopped clicking through to your website.

Different types of Win-Back emails:
Remind them that you're still there. A "Hello" email is great to remind them about you and that you are thinking about them and missing them as a customer.

Incentivize them to visit your site again. A small discount offer or free gift with purchase will encourage the subscriber to reengage with your website and eventually leading to purchases.

Create a sense of urgency. Give them one last chance to purchase with their incentive before they lose it.

Say goodbye. Give your subscriber one final notice that you will be removing them from your email list. Letting them know gives them one last chance to re-engage with your emails before you unsubscribe them for good.

How to improve these emails:
Send them early. Start this process within 30-45 and give the subscriber 3-4 chances to interact with your emails again.
Tell them what's back on the shelves. Was the subscriber looking at something you didn't have in stock? A great way to win them back is to send them an email letting them know the product is back in stock.
Content & Promotion Emails
Content and Promotion emails are designed to get the word out to potential and existing customers about your product or service. These emails often include coupons, discounts, access to exclusive content, or invitations to virtual and in-person events.
What types of promotional emails are there?
New Product Release Email
A new product release email is an email you send to announce a new product, a new feature, or a new release. New product release emails are one of the fastest and easiest ways to generate revenue from your existing and potential customers. Creating an amazing product release email can be incredibly effective if you use these 4 steps.
Tease the new product. Let your subscribers know something is coming but just hint at it, don't tell them what it is quite yet.
The preorder email. This where you share what the product is and give your subs an option to preorder/pre-purchase the product before it even hits the shelves (virtual and literal).
The launch. The product is now live! This email will be similar to your preorder email but with more details and more excitement. This is the time to let your product really stand out, share the unique qualities of this product that make it better than anything you've released before.
The follow-up. Your product has been out for a few days now and this is your chance to share your success with your subscribers. Is the product nearly sold out? Are you looking for reviews? Do you have UGC to share of your product in the wild? This is the email for that.
[caption id="" align="aligncenter" width="590"]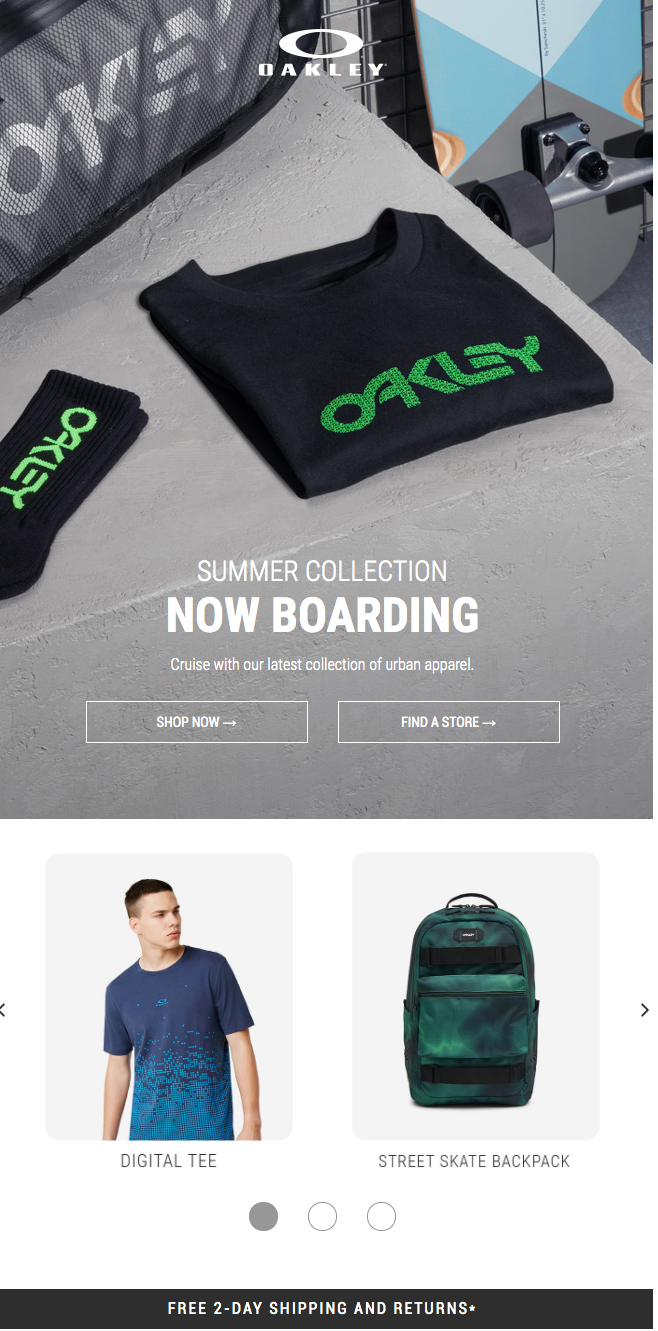 "Oakley" new arrival email[/caption]
Time-Sensitive Deals Email
Time-sensitive emails are used to drive a sense of urgency in your subscribers to either purchase or signup for an exclusive product or service. These emails should eliminate procrastination in your reader and cause them to feel that they have a "now or never" pull to buy.
How to improve these emails:
Set a clear and true deadline. Reinforce the deadline through out the email, whether it is a date, a time, or a holiday.
Use time-sensitive language. "Limited Time Only," "Last Chance," "Act Fast," "Quick, Before We Run Out" are all examples of time-sensitive language that create a sense of urgency in your customer.
Keep the language brief. Keep it short, sweet, and to the point. You want to keep it simple and clear, time is running out so you better act now.
Use urgency in your CTA. Campaign Monitor suggests pairing an active and urgent word to create the perfect urgent CTA.
Use a subject-line with urgency and time-sensitivity. Keep it brief but kept it urgent. "Last Chance," "Selling Out Fast," and "Final Hours" are common and effective language to use.
Subscriber-Only Discount Emails
These emails are not shared on other channels and apply to only those who are subscribed to your email list. Subscriber-only discounts are an effective tactic to grow your email list.
Seasonal Emails
Seasonal email campaigns are promotional emails tied to the change of season or a specific holiday. According to our friends at Maropost, "One-third of shoppers report that their holiday purchases were driven by promotions" and using that knowledge to create seasonal, promotion driven email campaigns, you can increase email revenue.
Creating campaigns around seasonal events, changes, and holidays can allow you to increase sales instantly with the simple "buy now" feature on most email platforms. The urgency of the holiday creates the same time-sensitive urgency that drives people to buy more quickly.
What types of content emails are there?
If your product falls under the category of solving a problem (which should be everyone), then you have content to write about its benefits, how-to, etc. Easiest place to start is repurposing some of your blog posts into a shorter version!
Newsletter
The purpose of a newsletter is to share the latest company news and relevant blog content. Newsletters should provide value to the customer by teaching them something new, giving them tips or tricks, or making them feel a part of your company culture. They should be informative, concise, and intriguing.
UGC / Reviews
Take the time to build a community around your product(s). There will always be brand advocators that are taking pictures, videos with your product, and these are great to spotlight in emails to begin more brand engagement.
Audience Segment Emails
Segmentation is the division of a larger email list into smaller lists based on a set of criteria as defined by your marketing efforts. Segmentation is key to the personalization of your emails. It allows you to create emails that speak to the different demographics of your clients. Below We will discuss the three types of segmentation we recommend for Content and Promotional emails.
High AOV Customers
High Average Order Value (AOV) customers are those customers who have the highest spend rate on your website. To calculate your AOV you take your Total Revenue / Total Number of Orders. When you calculate your AOV you can segment the group of people who spend the highest amount and Cross and Up-sell to those customers to further increase their AOV. A high AOV customer is more likely to buy a similar product or a more valuable product, thus further increasing their overall AOV.
Discount Customers
Discount customers are those who often purchase when there is a sale or special offer email from your company. These customers have a lower AOV but are likely to purchase when a time-sensitive deal is placed in front of them.
Face Value Customers
A face-value customer shops with the understanding that something is just as it. They need jeans, the jeans cost $99, they purchase the jeans for $99 accepting that this is their worth and what they will be spending. They are not looking for a deal like a discount customer, they have a need and they plan on fulfilling it. The FVC is great to cross-sell too. They do not need the incentive to buy, thus do not need to be marketed to in a time-sensitive manner, this purchase will happen regardless of a sale or discount.
By segmenting your Content and Promotional audiences into these 3 categories you can gain the most revenue by understanding the shopping habits of your customer, allowing you to send more effective and profitable emails.
Automated Sequences By Buying Cycle Stage
TOFU (Pre-purchase)
Defined: Top-of-funnel is the category of visitors who were interested enough in your brand to subscribe to your newsletter via an opt-in popup, but haven't committed to that larger leap yet... purchase. The goal of these subscribers is to welcome them to your brand, tell them what they can expect from you and your emails, and nurture them into their first purchase.
Buying Temperature Level: Warm ?
Welcome Sequence (3 Emails)
Email #1: Welcome, Value Prop, Discount
Email #2: Product Showcase + Discount Reminder
Email #3: Social Proof + Last Chance to Use Discount
First-Time Hard Sell - Did Not Convert in Welcome Sequence (3 Emails)
Email 1 - Limited Time Offer: 15% Off First Purchase
Email 2 - Reminder to use 15% Off Coupon + Product Highlight
Email 3 - Final Reminder to redeem 15% Off + Customer Reviews
MOFU (Pre-purchase)
Defined: Middle-of-Funnel is anyone who has revealed by certain behavioral triggers that they are very close to buying. Two major behavioral actions you can look out for and build automations around are people who have abandoned their cart & people who visited certain products and spent (x) amount of time viewing, but then abandoned.
Buying Temperature Level: Spicy ?
Browse Abandonment
Email 1 - See something you liked?
Email 2 - Have any questions? FAQ
Email 3 - Category - Products Showcase
Abandoned Cart Sequence (3 Emails)
Email #1 (+1 hour): Did you forget something?
Email #2 (+10 hours): Complete Your Purchase, Get X% Off
Email #3 (+24 hours): Your Cart is About to Expire, Get X% Off
BOFU (Post-Purchase)
Defined: Bottom-of-Funnel, the way we use it in eComm, is a current customer that you are looking to maximize the lifetime value of. You've invested valuable dollars into acquiring new customers through your omnichannel presence (SEO, PPC, Influencer) but now want to sit back and maximize the value that each customer can bring to your store. That's where focusing on the BOFU email strategy is a must!
Buying Temperature Level: Sun ☀️
Upsell / Cross-Sell
Email 1 - Thank You Message
Email 2 - Helpful Blog About Using the product
Email 3 - Ask for Testimonial
Email 5 - Cross-Sell + Discount
VIP Offers for email subscribers
Featured monthly products & New product releases
So now I've walked you through how to give your email campaigns the TLC they deserve. Don't take your emails to Vegas for a quick ceremony, it won't last. Build the foundation, and be ready for a lifelong partnership… of making money!