Trying to encourage new people to buy your products or engage with your services is hard, especially if you're advertising on Facebook. The average Facebook user clicks on 12 ads per month. And, with 3 million businesses advertising on the platform, creating the perfect ad campaign is important.
To get the most out of your ad spend, you need to target the right people.
Which people are most likely to be interested in your business?
Those who are similar to your current customers.
Imagine you're placing a dating ad online. You'd likely want to attract someone with similar interests and hobbies to yourself, right?
Sure, you can attract people to your Facebook ads through your creative. However, an easier way to target the right people is with a lookalike audience.
Here, we reveal everything you need to know about Facebook lookalike audiences.
Get brand new Facebook ad strategies straight to your inbox every week. 23,739 people already are!
What is a Facebook lookalike audience?
A Facebook lookalike audience is a method of reaching people who have similar interests and demographics to your existing customer list. The existing customer list can include website visitors, social media followers, email subscribers, current customers, and more.
Facebook has a powerful algorithm that can automatically find users who have comparable features to your clients, leads, and engaged audience. You just need to provide your current data or preferences beforehand.
What are the benefits of using a lookalike audience?
You may be wondering why you should target people that have commonalities with your existing target audience?
By seeking out Facebook users who closely resemble your customers or engaged followers, you're more likely to convert them into fans of your business. Not only is this effective for ad targeting a cold, new audience, but it also means you're targeting people who are more likely to engage with your ad set. 
Simply targeting a larger audience who has zero in common with your ideal buyer will lead you to wasting money on ads that don't convert into sales, leads, or engagement.
How to create a lookalike audience
The good news is that you can easily create a lookalike audience via Facebook Ads Manager without uploading any customer list. As long as you have your Facebook Pixel installed, a small piece of code that you install onto your website to track data, it's able to track important events. Facebook is then able to discover people who have closely matching profiles to those from a range of events that the pixel is tracking. These events or categories include:
Previous subscribers
People who have interacted with your Facebook page
People who have watched a video
Website visitors
Customers
People who have visited a certain page on your website
Step 1: Create a custom Facebook audience
To create a lookalike audience, you first need to create a custom Facebook audience. This custom audience provides Facebook with the data to build your lookalike audience.
To do this, head into your Facebook Ads Manager and locate the audience section. Click on 'create audience'. Here, you'll be able to create a custom audience.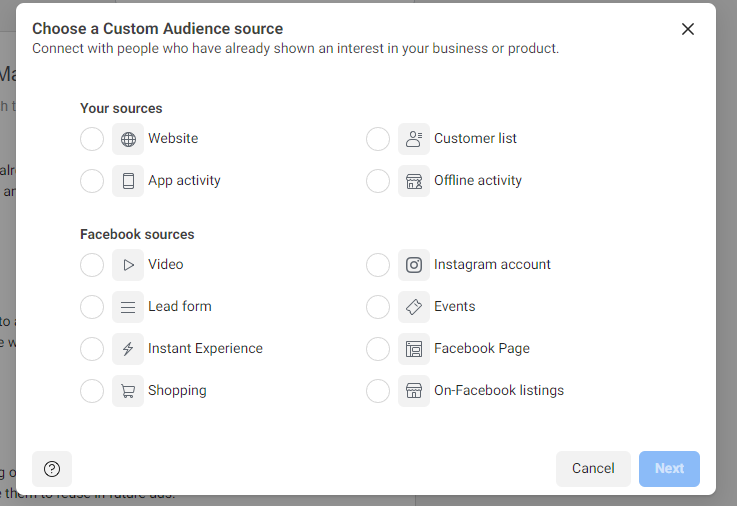 You can choose a custom audience based on what you prefer your lookalike audience to mirror. Creating a large audience size by uploading your list of customers or subscribers will help to maximize your overall reach. If you're a new business that doesn't have any existing customers, you can choose website visitors instead of buyers.
What if your website is still relatively new? Well, you can also create a custom audience from those that engage with your business. This can include users that have watched a video on Facebook or Instagram, or even interacted with your Facebook page.
Once you've set up your custom audience, you're ready to create your lookalike audience.
Step 2: Create a lookalike audience
To create a lookalike audience, your custom audience must contain at least 100 users. It's also ideal to have a custom audience ranging from between 1,000 to 5,000 users. The more users you have, the better the lookalike audience is more likely to be.
On your Facebook Ads Manager dashboard, go to 'audience' and select the custom audience you prefer. Once you know which audience you want, click on 'actions' to reveal the dropdown menu and select 'create lookalike'.
Next, select the location you wish to target for your advert. Now, it's time to decide on your audience size.
Step 3: Select audience size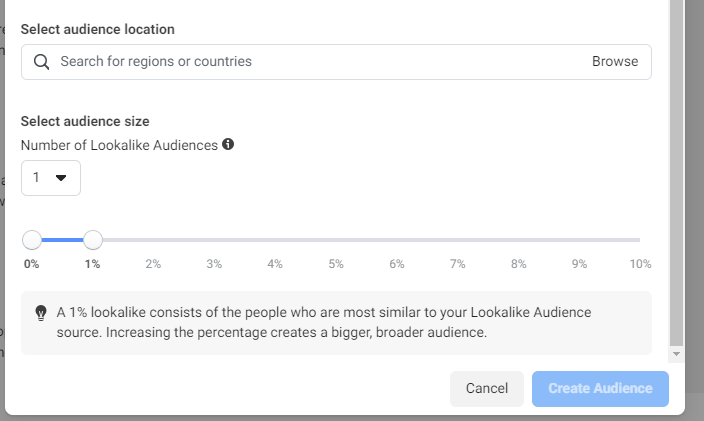 Facebook provides you with a choice of selecting between 0% and 10% for your audience size. A 1% audience size most closely matches your custom audience. The larger the size, the less your audience may match your custom audience (but you'll be able to reach more people).
Finally, click 'create audience'. It may take around 24 hours for your audience to populate. As long as your Facebook ads are running, your lookalike audience will refresh every few days.
What is a value-based lookalike audience?
This is an enhanced version of your lookalike audience. A value-based lookalike audience reaches a target audience similar to your highest valued customers. To do this, you need to reveal your customer lifetime value (CLV) to Facebook. This means you should be using software that is capable of tracking your lifetime value for you. For instance, Klaviyo allows you to export CLV data to upload into Facebook.
By telling Facebook how much your customers are worth, they can target users who share similar shopping habits and traits with your most valuable customers. Therefore, your ad targeting reaches people who are lower in your marketing funnel. In turn, you don't need to use awareness or engagement strategies to warm them up first. You can simply go straight into promoting your products or services in your ad set, saving you time and money in the process. 
How to create a value-based lookalike audience
To create a value-based lookalike audience, head to 'audiences' in your Facebook Ads Manager. Choose 'create audience' and upload a customer file with their lifetime value data. You'll then be able to name your audience and choose a value that corresponds with your customer lifetime value. Save this audience.
From your 'audience' page, you can now select 'lookalike audience' and proceed to choose the audience with the value column which you previously made. Next, you can select your location and audience size percentage. Then, click on 'create audience'.
When to use Facebook lookalike audiences
Facebook lookalike audiences are ideal to use when you have good existing customer data. Additionally, the more information you can give Facebook, the higher your conversion rate will be. Therefore, you may want to create a digital marketing campaign that helps you to establish a good-sized source audience first. For example, creating product-focused content on social media.
Lookalike audiences are also beneficial for retargeting campaigns, particularly if a segment of customers failed to convert. For instance, you may wish to target users who abandoned their cart at checkout. You can easily set up a lookalike audience with this customer data, dividing these by demographics and behavior to personalize your Facebook ads. 
Alongside abandoned checkouts, you may want to target users who have viewed specific product pages on your website. When setting up a custom audience, you can choose the top 25% of website visitors to a page or category. These are users who have spent the most time looking on specific pages, meaning they're already a warm audience who are primed for conversion. From your custom audience, you can create a lookalike audience of people who are the most engaged with particular products on your website.
What to do if your Facebook lookalike audience doesn't work
If your Facebook ads aren't performing as well as you hoped, it may be due to your customer audience. Warm audiences tend to work best for lookalike audiences. If you don't have a strong customer list, try to establish a base of 500 people who have made a purchase or opted into your email list. You can then try a lookalike audience again.
It's also important to A/B test your ad set too. You may need to try different headlines, hooks, and creatives before you find a winning Facebook Ad.
Facebook lookalike audience takeaways
Lookalike audiences are a strong digital marketing tool for targeting cold traffic.
To recap, a lookalike audience will help you to target a new audience that resembles your buyers, subscribers, or engaged audience.
In using this method, you have a better chance of creating Facebook ads that are more likely to convert. Take your guesswork out of picking audiences and let Facebook have the educated choice.