You have a product or service you want to advertise—what do you do? Odds are, you'll either invest in a search engine optimization (SEO) strategy to build your brand (good choice) or invest in paid search ads (another good choice).
Although both are exceptional options to grow a business, there's only one that'll drive results within days (sometimes even hours). Pay-per-click (PPC) ads are proven to increase traffic and sales for new and established companies.
There are multiple types of campaigns to choose from, including Facebook ads, Google Display ads, and Google Shopping ads (to name a few). But one is growing in popularity—Google Discovery ads.
If you're not already using them to increase visibility, then maybe it's time you should. Let's uncover what Google Discovery campaigns are and how to use them effectively.
Get brand new Google ad strategies straight to your inbox every week. 23,739 people already are!
What are Google Discovery ads?
Google Discovery Ads are similar to other paid ads you'll find online, except they show up exclusively on Google Discover, Gmail, and YouTube. Originally, it was for the Discover Google app, but has since expanded to its other networks.
It uses Google's algorithm to display relevant ads to users, increasing the odds of a click and conversion. This is possible using the platform's "custom intent" technology.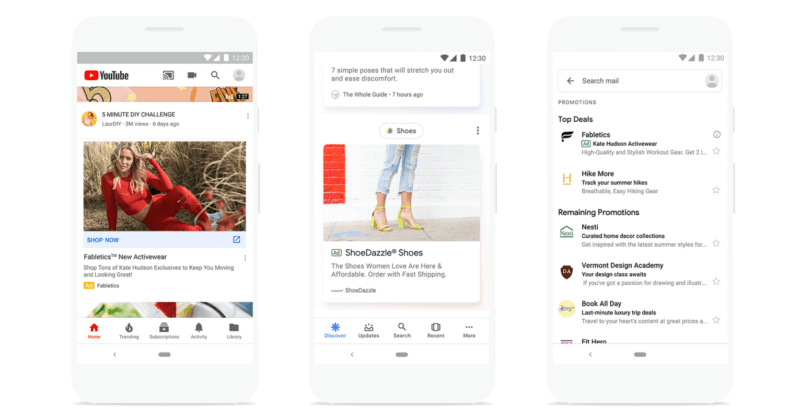 It uses a mix of signals, such as search query history, app downloads, videos watched, site visits, and other behaviors to analyze intent. Then it selects relevant ads and messaging to display to users. Discover ads are visually appealing and change in format based on the property it appears on. Wherever it shows up, it displays visually-rich content to attract users.
What are the benefits of Google Discovery ads?
There are several reasons why marketers and advertisers choose Google Discovery ad campaigns. Here's a look at some of the advantages it offers:
Immersive and interactive ad experience
Consumers don't like being bombarded with ads. Disruptive advertising is an old-school tactic that no longer works (hence the high usage of ad blockers). Google Discovery ads adopt a user-friendly approach to advertising that's appealing and non-disruptive.
In fact, if you ever scrolled through the Google Discover feed, you likely clicked on an ad or two without realizing it. And if you did know, you didn't care. That's because the ad was highly relevant to your search, which is key to driving website traffic and conversions.
This is the same technique Facebook uses with its own feed. All of its ads look like any other Facebook post, making it harder to differentiate at first glance.
Intelligent machine learning
When you set up your Google Discovery ads, you get to choose:
One landing page
Several images
Your logo
And up to five headlines and descriptions
Then machine learning kicks in. Google will use various combinations of your images, headlines, and descriptions to create ads that resonate with prospects. It's not your typical static ad—it's highly responsive to the searcher and the platform they're on. This level of automated optimization makes it easier for advertisers to get better results with less work.
Of course, you need to know how to set up your ads, but more on that in a minute.
Larger reach and more qualified traffic
Would you expect anything less with Google? The Discovery ad platform allows you to reach three billion users with relevant ads using a single campaign. Then your campaigns are highly-targeted to ensure you're displaying ads only to those most likely to purchase your product or service.
You can choose audience targeting based on demographics, geography, and languages.
Are Google Discovery ads worth it?
Depends on who you ask. As with any paid ad campaign, it all comes down to your daily budget, target CPA, and how you set up and optimize your campaign. It also helps if you have a good handle on bidding strategies. With an effective bid strategy, you can improve your ROAS (return on ad spend). 
So to answer your question, let's review what Lars Lofgren, CEO of QuickSprout (and ex-Director of Growth at KISSmetrics), has to say about it.
"To test the effectiveness of the new ad format, we decided to test two types of Google Ads campaigns: Discovery Ads and standard online campaigns. We chose the same targeting strategies for them.

Two strategies are available in Discovery Ads - "Target price per conversion" and "Maximum conversions", so we chose the former for both campaigns. The optimal price per conversion was based on the historical data of the previous campaigns. The creative and ads in the campaigns were the same. The budget for each campaign was also the same."
He ended up with Discovery's campaigns having better engagement and CPC rates, and the overall distribution of rates is as follows:
Session time is higher by 29%
Depth of views higher by 12%
Lower bounce rate by 27%
CPC lower by 42%
CTR is 3.67 times higher
34% of the click volume of the total came from Discovery Ads
23% of the budget from the total came from Discovery campaigns
Standard campaigns of Discovery Ads were second only to the coverage—the number of impressions of the former is 86% higher.
Lars spent roughly $30,000 on Discovery ads, with an average PPC rate of $1.91.
His one tip after all this experimenting:
"Test out the Audience Expansion feature. Audience expansion can allow you to expand your target audience and get additional conversions."
Google Discovery ads vs. Display campaigns
Google Shopping. Google Discovery. Google Display. There are several ways to advertise your products and services using Google. But what makes one worth investing in over another? The answer lies with experimentation. This is key to determining what works best for your potential customers and brand.
Let's take a look at how Google Discovery compared to Display Network for the following brand:
"The target audience and location of Google Discovery advertisements varies significantly from those of Google Display ads. Individuals who are willing to learn and interact are considered to respond to discovery ads. Display ads, on the other hand, are wonderful for raising broad awareness, which isn't often the primary goal of enterprises.

This is what makes Discovery Ads a unique ad style for online firms, and one that is well worth researching with. Because they are a recent advertising platform and may not be as aggressive as Display, you may find them to be less expensive. Additionally, engaging those that have a greater intention should lead to higher visits."

- Martin Mora, Senior Editor at Loose Grown Diamond
His one top tip after using Google Discovery successfully:
"At any point in the flow, Discovery Ads can be employed. The recommended method is to begin with Re-marketing consumers, then go on to Target Accounts, and finally In-market publics."
5 best practices for Google Discovery ads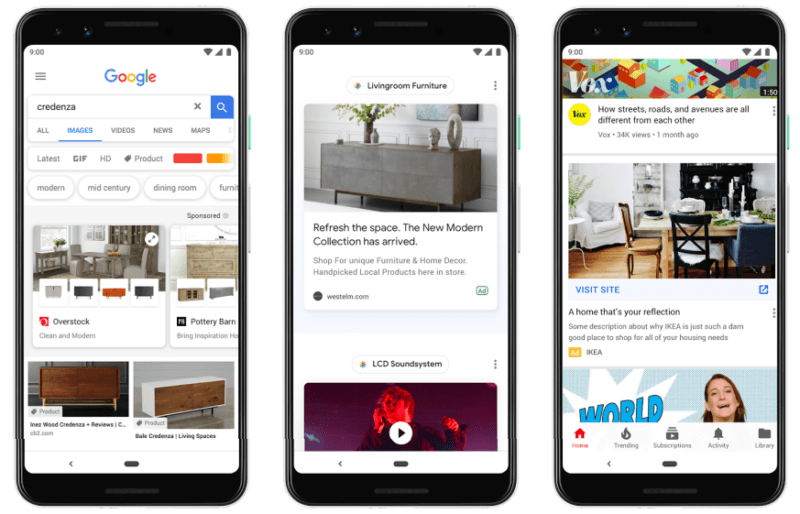 Wondering where to start with building a new campaign for Google Discovery ads? Then keep the following best practices in mind:
1. Use the right keywords
Keywords matter just as much in digital marketing as it does in paid advertising. Select the best phrases that match the intent of your audience. Just refrain from using too many or irrelevant keywords. Otherwise, you risk paying more than necessary for clicks.
This is why we highly recommend using Single Keyword Ad Groups (SKAGs). This is one campaign type (of several) we found that works well. Another worth considering is remarketing to retarget interested buyers. 
2. Create compelling headlines
Headlines tell people why they need to visit your site. If someone doesn't understand the value proposition or your offer, then they won't bother clicking. Since the headline is the first thing they read, it must be attention-grabbing, informative, and enticing. For example: "Buy now and get 50% off" vs. "Black winter coats for sale."
3. Choose relevant images
Before the headline, it's the image that catches the user's eye. Visual ads consistently outperform text-only ads (especially for shopping terms in Google search). So it's vital to select creative assets that are appealing and relevant to your offer (i.e., high-quality images of the product). Also, make sure to use high-resolution photos or video so it's clear.
You can opt for a single-image ad or one with multiple shots of the product.
4. Keep it short & sweet
Your ad copy is the first part of the equation. The second, and equally important, is the landing page. Don't take users to your homepage, bring them to a relevant product page that explains your offer or showcases the item pictured in the ad. Make it quick and easy to purchase, and odds are more people will.
5. Include calls-to-action (CTAs)
CTAs work great for increasing conversions. There are various strategies you can use, such as:
Targeting a pain point: "Reduce your back pain in 30 days."
Offering exclusivity: "Order now while supplies last."
Playing on FOMO: "Only 5 left in stock—order today!"
Build Your First Google Discovery Campaign
Selling online is tough, but it doesn't have to be. You can make it easier to reach new customers using Google Discovery ads. Now that you understand what Google Discovery is and how it works, it's time to dive into building your first campaign.
Before you do, it's good to know how to choose the right keywords for your campaigns. Check out "The Underused Power Of Keyword Intent And How To Use It" to learn how to choose highly-targeted keywords.