Creating an ad campaign is a lot like building a house. You need the expertise to build a solid structure and the design skills to attract potential buyers.
If your campaigns lack structure and appeal, then you can forget about converting them into paying customers.
But even with this know-how, developing high-converting campaigns is still time-consuming. This is what makes Google Smart Shopping attractive to eCommerce sellers.
Wondering how you can use it to automate your product promotion? Then continue reading to learn all about Google Smart Shopping and how to structure your campaigns effectively.
Get brand new Google ad strategies straight to your inbox every week. 23,739 people already are!
What are Google Smart Shopping campaigns?
Google Smart Shopping Campaigns allow retailers to create personalized ads based on customer data. The goal is to increase sales by targeting customers who are interested in your product.
It uses an algorithm that analyzes demographic information, location, search history, and past purchases to target specific shoppers ready to buy now.
What's the difference between Google Shopping and Smart Shopping?
The main differences between Smart shopping and standard Google shopping are how the campaigns work and where ads display. With Smart shopping campaigns, Google will use your product and customer behavior data to select the best products to promote to searchers.
These ads will then display to targeted buyers across Google's properties.
It goes further by automating the optimization of your Google Shopping ad campaigns to boost results. This is all possible using machine learning and artificial intelligence.
Google Shopping ads only showcase in the Google Shopping feed, and your campaigns are manual.
Meaning, you have to adjust bids and other ongoing optimizations to tighten in the performance.
With Smart shopping, you simply tell Google what your goals are and it will automatically start the optimization routines.
Pretty cool right?
How does a Google Smart Shopping campaign work?
Google Smart Shopping campaigns make it easier for eCommerce sellers and marketers to promote products. It removes a lot of the guesswork and automates campaigns, while still achieving exceptional results.
Some will even say it generates better outcomes than standard Google Shopping campaigns.
It's ideal for those lacking in budget and time to manage their own campaigns. All you have to do is enter your campaign objective and budget—Smart Shopping will handle the rest. Just keep an eye on your ROAS (return on ad spend) and the accuracy of your feed. 
To be eligible for Google Smart Shopping, you'll need a Google Merchant account. Then you can create your first campaign and add up to 100 enabled or paused Smart Shopping campaigns within your Google Ads account.
Here's a look at some of the ways Google Smart Shopping can help your campaigns win.
Targeting new customers interested in buying your products (right now)
Google Smart Shopping doesn't display ads to the general public—it targets individual shoppers. When you run a Google Shopping campaign, it extends beyond retargeting past website visitors.
Rather than following around unresponsive users, your ads show up to the right customers (based on your preferences).
Plus, it analyzes other factors like demographics, location, past searches, and shopping habits to identify shoppers with a high likelihood of buying now. Google also examines your existing inventory to display the most relevant products to the buyer across multiple networks.
Optimizing ads for better results
When you set up a Smart Shopping campaign, Google will optimize your ads for visual appeal. This includes testing various images from your product feed and text combinations. The idea is to create ads that are highly relevant and personalized for each user.
Bidding on keywords for you to extend your budget (optional)
The purpose of Smart Shopping campaigns is to simplify paid product promotion. So Google offers bidding automation to further your budget and improve results. If you're not comfortable giving up control of the bidding, you can select a bidding strategy yourself.
Do Google Smart Shopping campaigns work with Shopify?
Yes, you can use Google Smart Shopping as part of your Shopify store. In fact, we recommend doing so because it makes managing your campaigns simpler.
You don't need any special skills to get started either. Just connect your Google Ads account to Shopify's Google channel, and then create your first campaign.
Where do Google Smart Shopping ads appear?
The ads in your Smart Shopping campaigns appear across Google's properties. This includes the following platforms.
Search engine results
As you're searching (or shopping) on Google, you'll discover visual shopping ads at the top of the search results.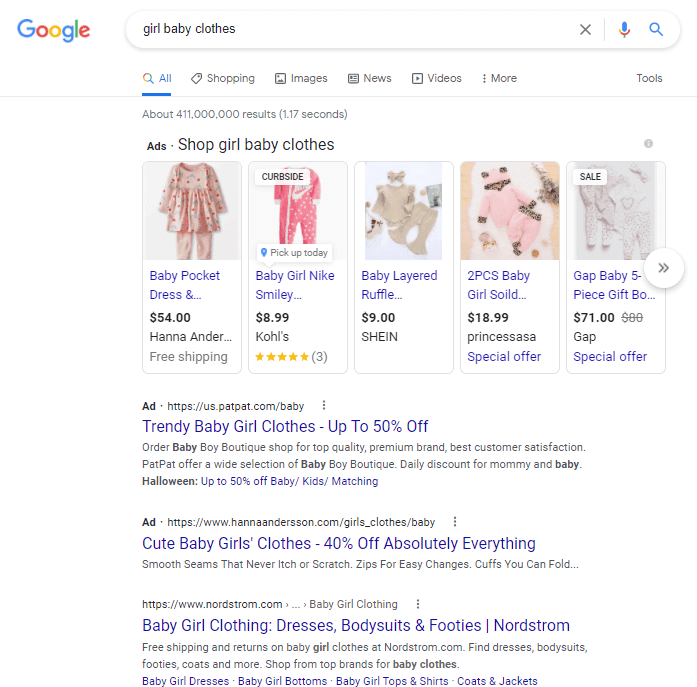 Then if you scroll down, you'll find a section called "Popular Products," which is an excerpt from Google Shopping product listings.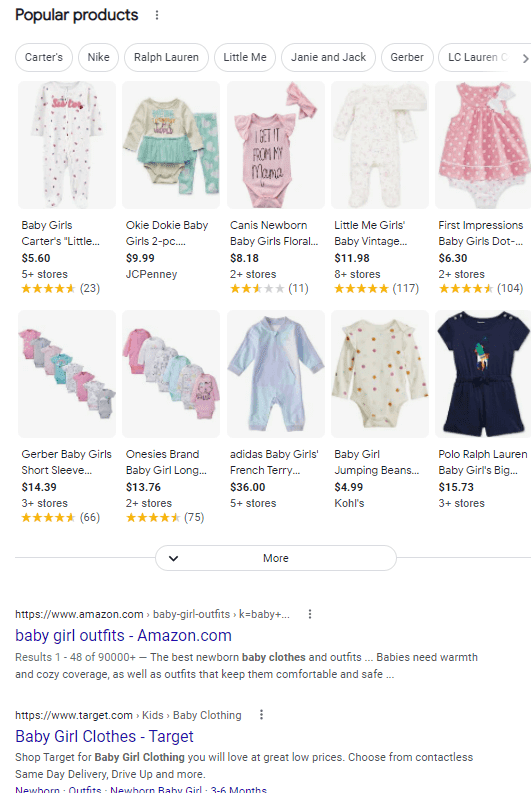 Google Shopping listings
When you click on the "shopping" tab in your search results, ads are sitting at the top of the results. This blends in with the other product listings, which improves the odds of shoppers clicking on them: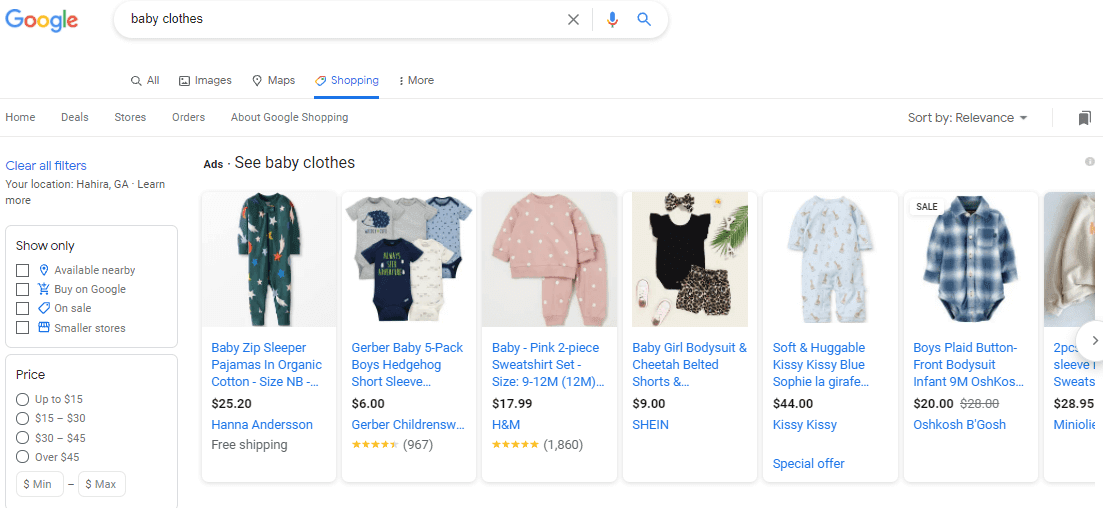 Gmail email dashboard
The product ads in your Smart Shopping campaign also appear in Gmail accounts. They show at the top of your Social and Promotions tabs. They don't include visuals, so they're text-only like in this example:

YouTube search feed
You'll see display ads on YouTube as you're browsing around and watching videos. Here's an example of an ad at the top of the results to the right of a video:

And another in the search results above the video feed: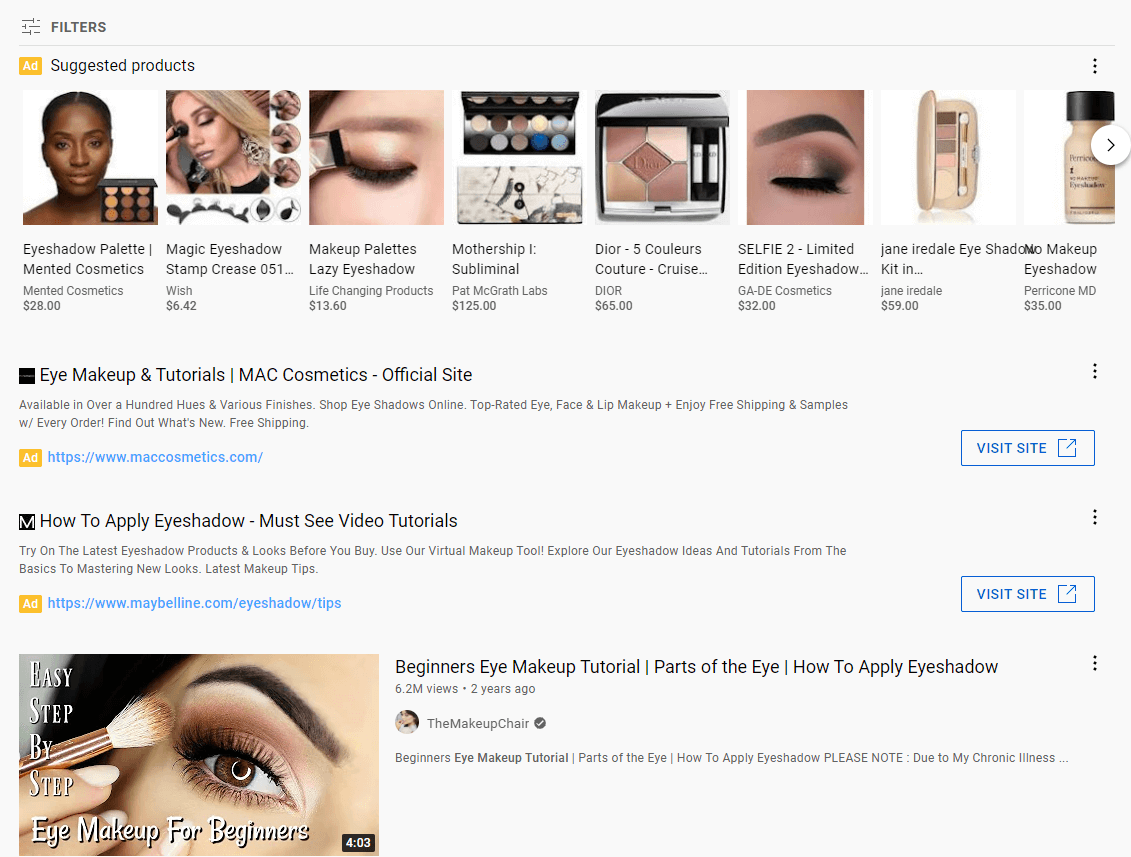 In this example, you'll find a shoppable ad carousel at the top, along with text ads beneath it.
Websites using display ads
You'll also notice Smart Shopping campaign ads on websites that show display ads. They may appear within the page as native ads or as banners at the top or in the sidebar. Here's an example of how they appear on this website: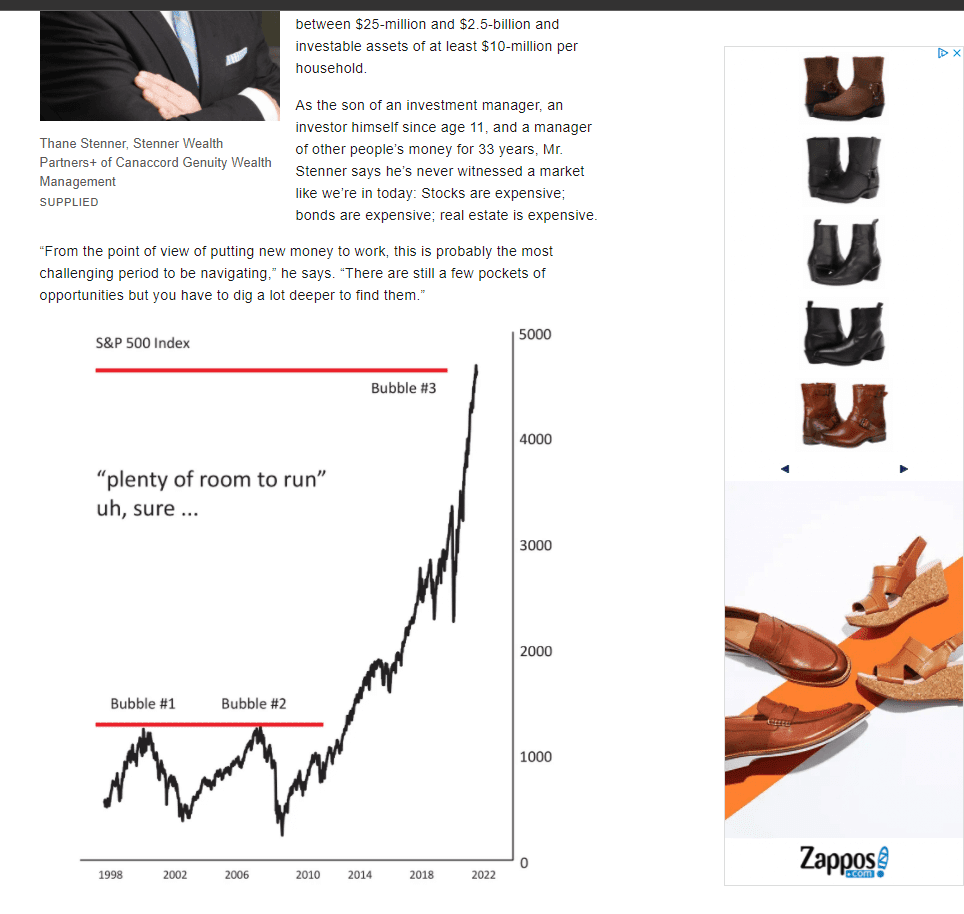 There's even an arrow that allows you to shop through the shoe selections. When you click on them, it takes you to the shop's product page to complete the purchase.
Is Google Smart Shopping effective?
For the most part—yes, Google Smart Shopping works. Of course, the outcomes depend on your product, industry, season, and a host of other factors. However, you can increase the odds of your campaigns' effectiveness by learning to optimize them.
Those that do tend to see favorable results. Take, for example, Letterfest—an English brand that creates handmade, personalized gifts. They teamed up with Klientboost to manage their Google Ads campaigns.
After implementing:
They witnessed a 280% increase in conversions and a 251% boost in revenue—all the while reducing their CPA by 24%.
Fashionphile is another brand that partnered with Klientboost to manage its Google Smart Shopping and the results were phenomenal. They saw 150% better ROAS and higher revenue compared to standard Shopping campaigns.
However, not all brands see promising results, especially if the product isn't a good fit. Take, for example, Kasera, a furniture discovery tool in the UK.
"We've used both Google Smart and standard Shopping campaigns for various brands we have. We use split strategies to test our high-value and lower values products with both types of campaigns. We noticed on the high-value products that the click-through rate on the Standard campaigns was slightly higher than the Smart campaign—1.8% on the standard campaign vs. 1.3% on the smart shopping campaign.

What we learned from those experiments is people are more curious to explore products within their budget. We also noticed the conversion rate for website visitors is much higher with Standard Campaigns compared to Smart Campaigns. Our conversion rate was 19% for the Standard Campaigns vs. 9.8% for the Smart Campaigns." — Rahul Mohanachandran, Co-Founder/ Head of Marketing at Kasera
Google Smart Shopping ROAS
You have two options for setting up your Smart Shopping campaign. You can either set a ROAS goal or fully automate it using Google's Smart Bidding feature. It works like this:
Google Ads predicts conversion rates each time a shopper searches for your product or service. It's based on your reported conversion values (via conversion tracking)
Google Ads maximizes your cost-per-click (CPC) bids to maximize conversion value, while staying within your target ROAS. This is possible using real-time signals like time of day, browser, device, and location to determine bids and whether to place someone in your remarketing campaigns.
Some ads will have a higher ROAS than others. But overall, your conversion value per cost will remain within your preset target ROAS.
Let's say your target ROAS is 1,000% for your online fitness gear store. So you optimize your bid strategy based on your shopping cart total. You decide to aim for at least $10 worth of sales (your conversion value) per $1 spent on ads.
Here's the formula:
$10 in sales ÷ $1 ad spend x 100% = 1,000% target ROAS.
With this setup, you'll get 10x your target ROAS.
Then to improve your results, you can select your best-performing products to add to Google's Display Network. That's what this brand did and saw great outcomes:
"Our company recently switched to Google Smart Shopping to increase the exposure of our products through Google Search and save time in managing this platform. The most important strategy we implemented was monitoring the products that were selling in Google Shopping. Because you have little control over your campaign, we wanted to make sure only products selling well were included in our feed. We noticed we were spending a ton of money on products that weren't big movers for us. After removing products that weren't profitable for us in Google Smart Shopping, we improved the overall performance by over 200%." — Jeff Moriarty, Marketing Manager at Moriarty's Gem Art
Can you have standard Shopping and Smart Shopping campaigns?
Yes, you can use each campaign type, and various brands do so to test and amplify their results. Keep in mind—if you're using separate ads for the same product or groups of products, then your Smart Shopping campaign will be prioritized. So if a user types in your keywords, they'll see your Smart ads instead of ads from your display remarketing or standard Shopping campaigns. 
Ideally, you want to pause ads in your other campaigns to prevent eating up your budget. And it'll stop interference with Smart campaign's machine learning.
Here's how one brand uses the two together:
"You can use the same strategy for Google Smart Shopping as you would with standard Google Shopping campaigns. However, with standard Google Shopping campaigns, you're restricted in the number of keywords you can add to your ad group. With Smart Shopping campaigns, there's no limit to the number of keywords you can add. This means you can be more specific in your targeting. For example, if you're selling coffee machines, you could include keywords like "espresso" or "commercial" to target a particular machine or business/coffee shop.

Smart Shopping campaigns are a great addition to the standard Shopping campaigns. Smart Shopping campaigns, in addition to creating keyword triggers, also create remarketing lists - based on the keywords selected. So you can target people who have searched for specific search terms." — Thomas Fultz, Founder and CEO at Coffeeble
How do you set up a Smart Shopping campaign?
Before creating a Smart Shopping campaign, you'll need to sign up for a Google Merchant Center account. This is where your product feeds appear, which Smart Shopping uses to create your ad campaigns.
You can connect your website to your Google Merchant account—it currently integrates with Shopify, WooCommerce, and GoDaddy.
Here's an overview of the steps to set up a Google Smart Shopping campaign:
Create a Google Ads account account
Sign up for a Google Merchant Center account
Connect your website to your Google Merchant Center account
Set up product feeds in Google Merchant Center
Add products to your new campaign
Optimize your ads & track results (don't forget to include negative keywords)
Manage dynamic remarketing lists from within Google Merchant Center
Monitor performance of each listing
Remove unprofitable items from your feed
Re-optimize based on the data and metrics you collect
Smart Shopping campaign structure
There's no one way to structure your Smart Shopping campaigns. It takes a bit of experimentation to see what performs best for your industry and audience.
The idea is to segment your campaigns based on products and then prioritize them based on their performance.
But don't worry—prioritizing and segmenting won't affect your search relevance. Instead, it pushes more of your budget to the products and categories with a greater potential to generate clicks and sales. This means your best-sellers will get more visibility from the people who are ready to buy.
Here's a look at the most common campaign structures for Smart Shopping promotions:
Single product ad group (SPAG): This is where you select one product per pay per click (PPC) ad group and is great for quickly identifying your top-performers and eliminate low-converting products
Double campaigns using priorities: This is ideal if you have separate goals or want to test different versions of campaigns (i.e., high vs. low-value products, separate ROAS targets, new. vs. existing products)
Three Campaigns and Three Ad Groups: With this option, you can create campaigns using various scenarios. For example, you can make three segmented campaigns based on generic keywords, brand keywords, and products on sale (or by categories).
Automate your ads with Google Smart Shopping campaigns
Getting more sales for your products doesn't have to be challenging. Nor should it eat up your time and budget. All you need is the right tool and strategies to make your campaigns work. With Google Smart Shopping, you can automate your promotion, sales, and growth. But this, too, requires know-how. Use this guide to get acquainted with the platform. Then to increase the odds of converting your clicks, read our guide on how to optimize your landing page.