If you've read our blog before, you probably already know that KlientBoost is all about Single Keyword Ad Groups (SKAGs) for B2B brands (Business to Business) investing in pay-per-click ads.
But most of my clients are eCommerce vendors in the B2C space (Business to Consumer).
So what's the SKAGs equivalent for B2C vendors, I wondered? And would that SKAGs equivalent be just as effective?
The answer is Single Product Ad Groups (SPAGs)—another term coined by KlientBoost (SKAGs is our baby, too).
To demonstrate SPAGs, I'm going to turn to Sponge Bob Square Pants. Specifically, the secret Krabby Patty formula.
Like Krabby Patties, Google Shopping campaigns also have a secret formula that makes them juicier, with results like this:
Get brand new Google ad strategies straight to your inbox every week. 23,739 people already are!

Introducing SPAGs
SPAGs are the Google Shopping equivalent of SKAGs. It's a special sauce that makes it easy for you to know what products trigger what searches, and how much money your individual products make.
This probably sounds familiar if you've run a brick-and-mortar business. If you own a premier restaurant like the Krusty Krab, for example, you definitely know how much each item on your menu earns and how much it costs to make it (your margin).
Similarly, SPAGs are the best way to get your campaigns relevant traffic and streamline your bidding strategy. SPAGs make sure you don't bid more than what a product is actually worth, and that you focus on products that make money.
Let's dive into this secret optimization formula.
What are Single Product Ad Groups?
In your Shopping campaign, SPAGs are ad groups that contain one product.
More importantly, SPAGs are a way to gain more control and coax better performance from your shopping campaigns.
With this approach, your products (in the Google Merchant Center) appear in relevant search queries and the bids associated with each of your products make sense.
If your Shopping campaigns aren't organized by relevant themes and profitability, this leads to a chaotic situation I call "The Mob Effect."
You don't need an Al Capone documentary, an Al Pacino movie, or even a note from Spongebob to know that mobs aren't exactly a good thing.
But it's important to note that Google Shopping mobs play out like real-life mobs—you're left with a big, expensive mess.
The mess in your Shopping campaigns is a smorgasbord of search terms whose profitability you can't tie to a single product. The profitable terms are mixed in with potentially low-performing products that drain your PPC budget.
Clearly, mob invasion isn't ideal. To avoid the Mob Effect, let's look at an example of a SPAG.
Naming your SPAGs
The two strongest product-level identifiers are
Say one of the items in your catalog is a Krabby Patty.
Item ID: KP1
Your ad group should be named:
KP1 – Krabby Patty
Keep it simple; know what the product is at a glance.

On top of that, SPAGs make it easy to see what specific products attract search terms.
Benefits of SPAGs
Google Shopping ad campaigns don't provide control at the keyword level. Not the same way that Google does on other platforms.
The search terms you pay for are determined by the quality of data in your product feed. You might be surprised by the search terms your products bring in.
You might discover opportunities to improve your product titles or other elements in your campaign.
Creating SPAGs makes it easy to see the search terms each of your products trigger and the revenue associated with those search terms by product.
SPAGs helps you weed out irrelevant terms.
When you optimize your product data around your shopping campaign's most profitable search terms, you overcome the most difficult part of Shopping campaigns: the fact that you can't target keywords in Google Shopping.
The one exception: when you shouldn't rely solely on SPAGs
Blanket statement: SPAGs are awesome and you should rely on them.
🚨👉 But there's one exception.👈🚨
If you sell 1-100 products, SPAGs will provide significant clarity on your product performance without getting too unwieldy.
But if you sell hundreds of products, or manage over a thousand SKUs, creating and maintaining SPAGs can become a logistical nightmare.
🚧 Analysis paralysis is real. 🚧
Ok, that's dramatic. 🥸
But there is a law of diminishing returns. And generating an equal amount of traffic for every product isn't your goal.
Your goal is to break up the mobs, discover which of your products sell best, and use them to drive sales.
Creating SPAGs makes that a lot easier for you.
If you manage thousands of SKUs, your Google Shopping-related time and energy is precious. In this case, the best returns will come from identifying top performers and keeping high-spending products with low returns (aka "mob products") from running away with your budget and profits.
Here's an example of what a top performer looks like:

Of the five highest-spending products, the one that spent the least actually out-earned the other four—combined.
If you manage thousands of SKUs, you'll still want to protect outliers with higher revenue and return on ad spend from the mob.
The best way to do that is to stash those top performers in a unique campaign with their own dedicated budget. 🥳
Mic drop, right?
Let's do that next.
How to create SPAGs
Now that we've established the value of SPAGs for one eCommerce product or a thousand, let's talk about how to create your first Single Product Ad Group.
Google Ads
Go to the Products tab in Google Ads (formerly Google Adwords). You'll find a list of all your products, which you'll need to copy and paste into Excel.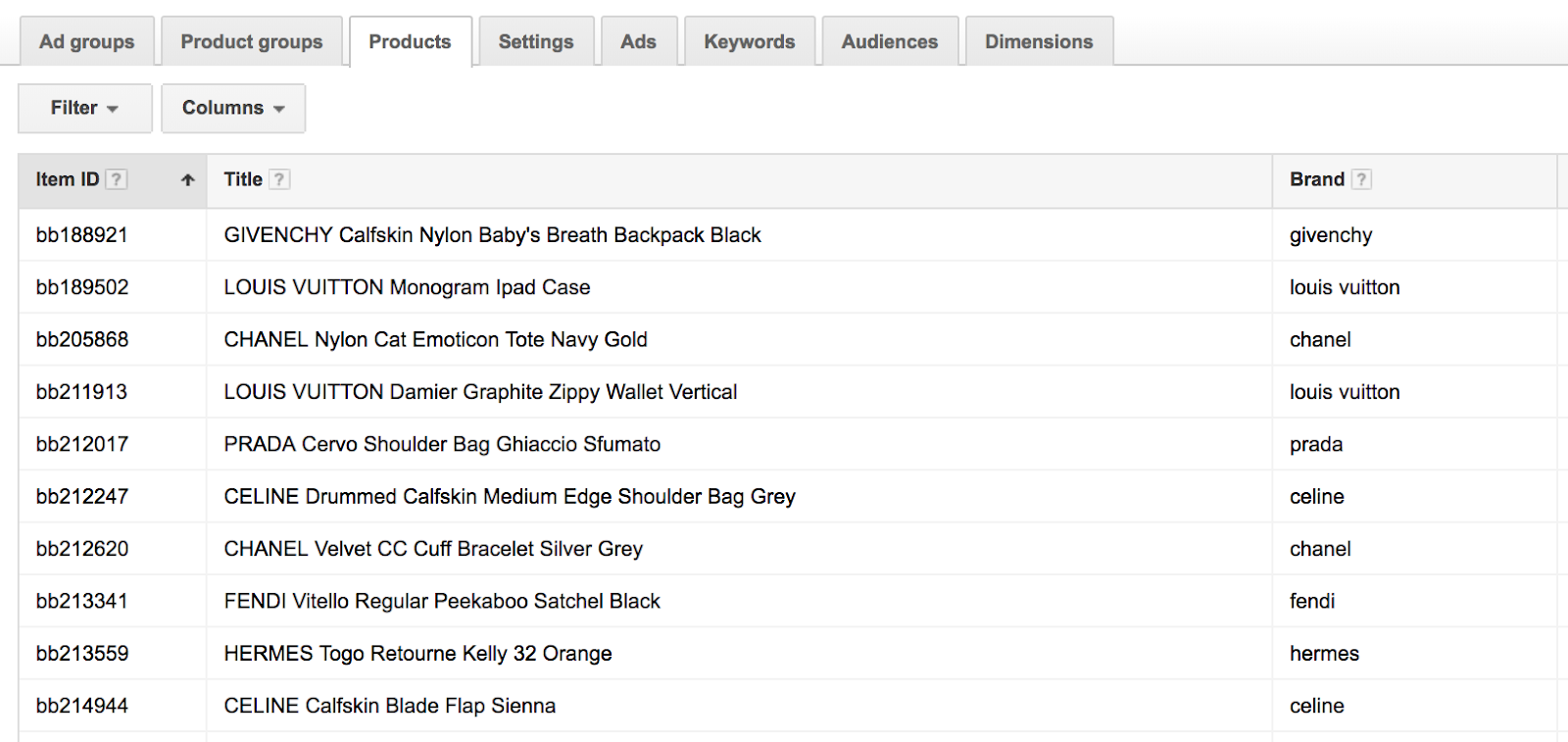 For the sake of SPAGs, the two most relevant columns are Item ID and Title because these columns make up your ad group name.
Spreadsheet
When you paste your data into a spreadsheet, format it to look like this: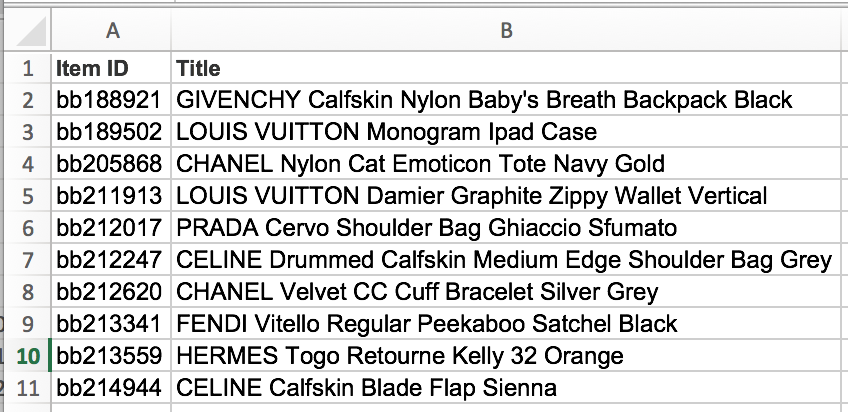 Now convert your Item ID and Title data into something the Google Ads Editor will recognize.
To do that, create these column headers:
Now your product data should look like this:

Generating SPAG names in Excel
You don't have to manually add the Item ID and Title into one cell in Excel. There's a secret formula for that too.
Here's what the formula looks like when you're done: =E2&" - "&F2
WTF, right?
Let's walk through how to make this formula.
Go to the ad group column
select the Item ID first

E2

Add an ampersand &
add a quote, a space, a dash, another space, and another quote (The spaces make the ad group name easier to read.) " - "
Add one more ampersand & followed by

F2

to include the product title in the ad group name
Here's what it looks like:

No matter how many ad groups you have, you only have to enter this formula once.
Drag it throughout your spreadsheet to create and organize as many ad group names as you want.
Now do something celebratory because of all the time you saved by reading this post.
Export your SPAGs
Now turn your spreadsheet data into a campaign with sets of ad groups.
Open Google Ads Editor
Go to the Ad Groups pane
Click "Make Multiple Changes"
Paste your data from the clipboard.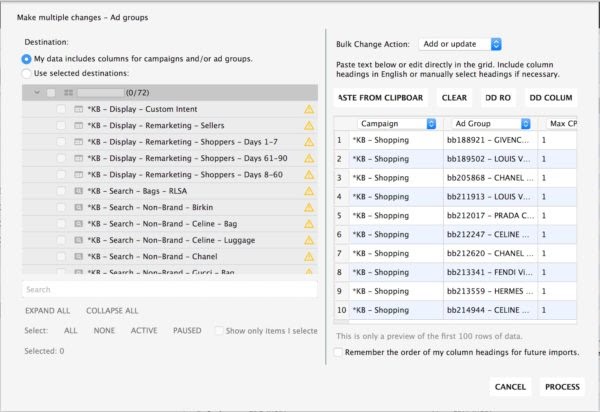 Before you upload your ad groups:
Go to the ads pane in Google Ads Editor
Scroll down to Shopping ads
Add a Shopping ad to all of the ad groups in your campaign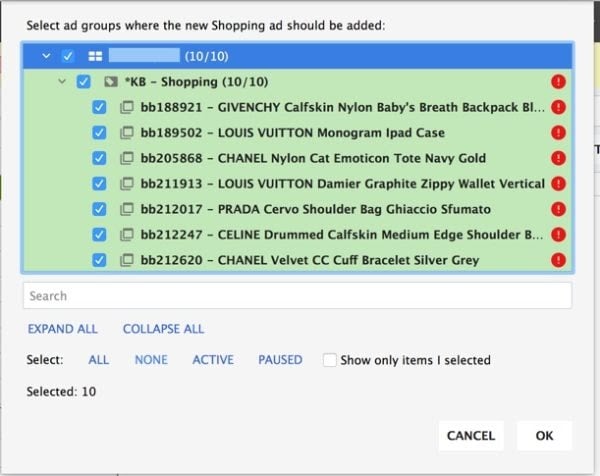 Now you're ready to upload your campaign and ad groups to Google Ads. The last step is to add your product groups. These will serve as your actual targets.
When you create your first product group, Google Ads defaults to "All Products." This is the exact opposite of what you want and has mob rule written all over it.
To turn this into a SPAG, click the + sign.
Subdivide by Item ID and select the designated product in your ad group name.
Happiness: Because you included the Item ID in your ad group name, you can copy it while you're in the interface, bulk add it in the item ID selector, and instantly add the correct product.
At the end of the process, you'll notice that even when we add the item ID, an "everything else" subcategory appears.
Aarrghh.
Sadness.
You'll exclude this in every SPAG you make. Otherwise, you'll end up back at square one: mob country.
Next steps for SPAGs
So you've set up your first SPAG, and you might be thinking, "That was a lot of steps for setting up SPAGs." Yeppers. Setting up SPAGs is one of those time-consuming digital marketing strategies.
No one said taking down the mob was gonna be easy.
Depending on how many SPAGs you want to set up, you can set up a bulk sheet for that too.
The bulk sheet looks like this:

Using this format, when you create product groups you can exclude the "Everything else" product category in one upload—hooray—and shave considerable time off your SPAG creation.
Why SPAGs are worth it
Remember the example we looked at earlier, with five highest-spending products and one outlier whose revenue and ROAS outweighed the rest?
If you're wondering how that whole situation played out, here's what happened.


This is what it looks like when you break out of the Mob Effect. 
You stop wasting money on products that don't sell well on Google Shopping and use your top performers to drive growth.
Wrapping up Single Product Ad Groups
SPAGs take time to create. As a savvy marketer, that's the price you pay. And they won't transform your eCommerce store sales overnight. But once you do the heavy lifting, you'll quickly start finding weaknesses in your shopping strategy that you hadn't noticed before.
You'll pick out the profitable products, make bid adjustments, monitor the metrics, and transform your Google Shopping campaigns for the better.