You've probably known someone who tried to lose weight but didn't. They thought they could eat whatever they wanted as long as they worked out.
As many people have discovered, consistency in the kitchen makes the biggest difference in the long run.
In other words, exercise works, but you can't ignore your diet.
PPC campaigns are the same way:
Positive keywords work. But you can't ignore negative keywords.
Your campaigns need negative keywords to block out unwanted search results 🥳
The fun part is, you can use negative keywords at different levels of your campaigns:
Universal negative keywords apply to all campaigns
Campaign-level negative keywords apply to some campaigns- as a list
Ad group negative keywords apply to single keyword campaigns (not recommended)
And negative keyword match types exclude search terms broadly, by phrase, and exactly
To show how to apply negative keywords through the different tiers of your campaigns, we partnered with Acquisio to bring you the Negative Keywords Food Chain.

Stay at the surface, or go deep when applying multiple layers of negative keywords for better PPC performance.
Get brand new Google ad strategies straight to your inbox every week. 23,739 people already are!
What are negative keywords?
Negative keywords exclude search terms from your ad campaigns. They're a tool that says to Google, "when someone enters a search query that contains this irrelevant word, don't show my ad." 👊
This is brilliant because not showing your ad when the query is irrelevant means your ads focus on relevant keywords that matter to your interested prospects.
The more this happens, the better your return on investment (ROI).
Want a super helpful list of negative keywords to kickstart your negative keyword journey?
You got it.
What are good negative keywords?
Here's an alphabetical list of negative keywords that will stop your ad from showing and prevent you from paying for an irrelevant click:
A: about, act, act of, aluminum, antique, appendix, article, articles, association
B: bargain, book, books, bulk, burn, burner
C: career, careers, case study, case studies, compact disc (CD), ceramic, cheap, class, classes, clearance, closeout, closeouts, club, clubs, code, college, colleges, community, compliance, consultants, consulting, consumer, cotton, course, courses, craft, crafts, craigslist, create, creating
D: definition, desktop, developer, developers, diagram, diagrams, discount, discounted, disk, disks, do-it-yourself, download, downloads, dvd
E: ebay, education, employer, employers, employment, error, example, examples, export, exporter, exporters
F: fabric, file, files, forum, free, freeware, full time
G: game, games, gift, gifts, glass, glossary, gnu, gold, guide, guides
H: hack, hacks, handcrafted, hand made/handmade, hire, hiring, history, hobbies, hobby, home, homemade, how do i, how to
I: image, imagery, images, import, imported, importer, importers, imports, index, inexpensive, info, information, infographic, intern, interns, internship, internships, iron
J: job, jobs, journal, journals, jump drive
L: law, laws, learn, leather, legal, legislation, libraries, library, liquidation
M: magazine, magazines, make, making, map, maps, measurement, metal, memory stick, metrics, microsoft, model, models
N: naked, news, nude
O: occupation, occupations, odd lots, online, open-source, opinion, opinions, overstock, outline
P: paper, part-time, pay, photo, photograph, photographs, photos, pics, picture, pictures, plastic, price, prices, pricing, public domain
Q: quote, quotes
R: rating, ratings, recruiter, recruiters, recruiting, recruitment, regulation, regulations, remainder, remainders, rent, rental, repair, repairs, research, resume, resumes, retail, retailer, retailers, review, reviews, rubber, rules
S: safety, salary, sample, samples, school, schools, screenshot, screenshots, send, sending, shortcut, shortcuts, silver, snapshot, snapshots, specifications, specs, stainless steel, standards, statistics, stats, steel, stone, store, success stories, success story
T: template, templates, textbook, textbooks, tip, tips, torrent, torrents, toy, toys, training, tutorial, tutorials
U: universities, university, usb flash drive, used
V: video, vintage, vinyl
W: what are, what is, webinar, wholesale, white paper, white papers, windows, wood, work
Y: Youtube
Gosh, that's a thorough list 😊
But we'll do you one even better: here's an even more comprehensive negative keyword list to sink your teeth into 😎
And here is another negative keyword list sorted by industry 🥳
Wapow!
At this point, you may be thinking "thank you for all these tasty negative keywords I can starting using right away."
But you also might be thinking that that negative keywords would be a lot easier if an agency handled their implementation for you.
For the record, we think you can do it 🙌, but give us a shout if you want to put your campaign in professional hands.
Now let's break out all the ways negative keywords are great for your ad campaigns.
What are the benefits of negative keywords?
The main benefit can be explained in four words: they minimize garbage clicks.
The happy side effects of getting rid of garbage clicks are these:
create relevant ad groups
improve your click-through rate (CTR)
Improve conversion rate
Lower cost per click (CPC)
Improve return on ad spend (ROAS)
Bidding on keywords triggers your ad as a search result when the search query contains that keyword. But negative keywords filter out unwanted clicks that aren't likely to turn into conversions (and would hurt your return on ad spend, or ROAS).
Getting rid of the garbage clicks saves money and improves PPC performance by increasing click-through rates (CTR)—your ad is more closely related to a searcher's query, so they click on it. Relevant ads get more clicks, and more clicks lower your cost per click (CPC).
That makes negative keywords pretty valuable.
But, how do you know what negative keywords to add to your Google ad campaign? It's hard to think of all the negative keywords you should add without some hints.
How do I find negative keywords?
Thankfully, you'll find negative keyword hints inside the Google Search Terms Report (STR) or Microsoft Ads Search Terms Report.
The Search Terms Report tells you what search terms are associated with different keywords in your ad groups so you can see what keywords (and their match types) are more or less likely to cause unwanted clicks—yippee.
We're going to dive into the negative keywords food chain now and show you how to spend less time to get better PPC results.
Great white shark – universal negative keyword list
The shark is at the top of the food chain (the universal level).
When you create a negative keyword list at the universal level, you're saying you never ever want those search terms to trigger your ads in the search engine results pages (SERP) because they're entirely unrelated to your ads, your campaigns, or the bright burning soul of your company.
They don't make sense.
For example, Apple Inc. is a technology company that sells consumer electronics like the iMac and Macbook Pro. At a guess, Apple Inc. sets "Honeycrisp," "Granny Smith," and "apple pie" (to name a few) as universal negative keywords because apples that grow on trees (and baked apple goods) have nothing to do with Apple Inc's offer.
The digital marketers at Apple Inc. never want their ads to trigger when someone searches for an apple pie recipe, so they would create a universal negative keyword list to prevent that from happening (across all of their campaigns).
Where do you make that universal negative keyword list?
How to add negative keywords
Adding negative keywords is a three-step thing.
Go to your Shared Library, which you find in your Google Ads account, under Tools & Settings. Click Negative keyword lists.

Click the plus symbol to add a new negative keyword list.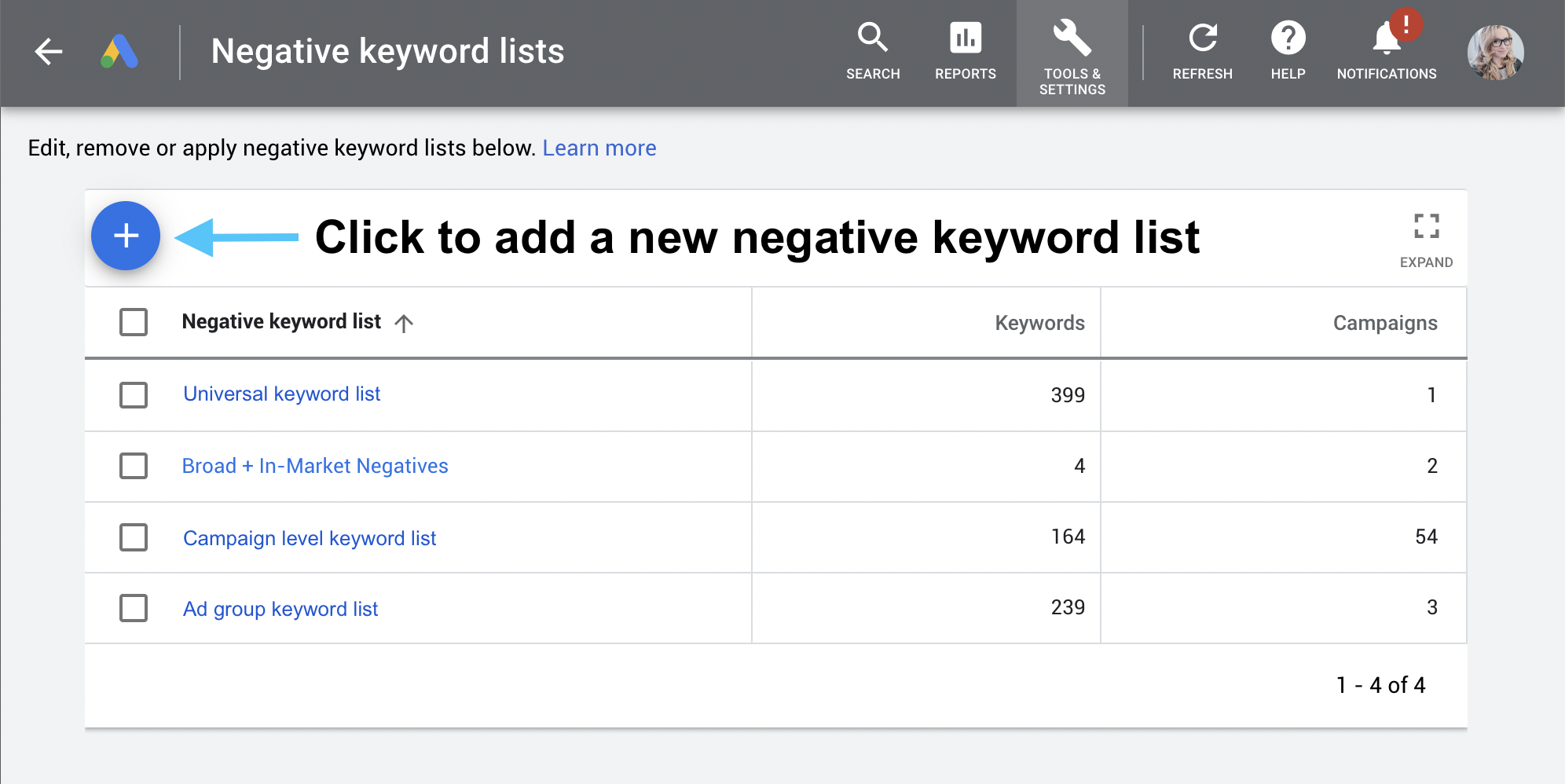 Name your list and add your negative keywords. Boom.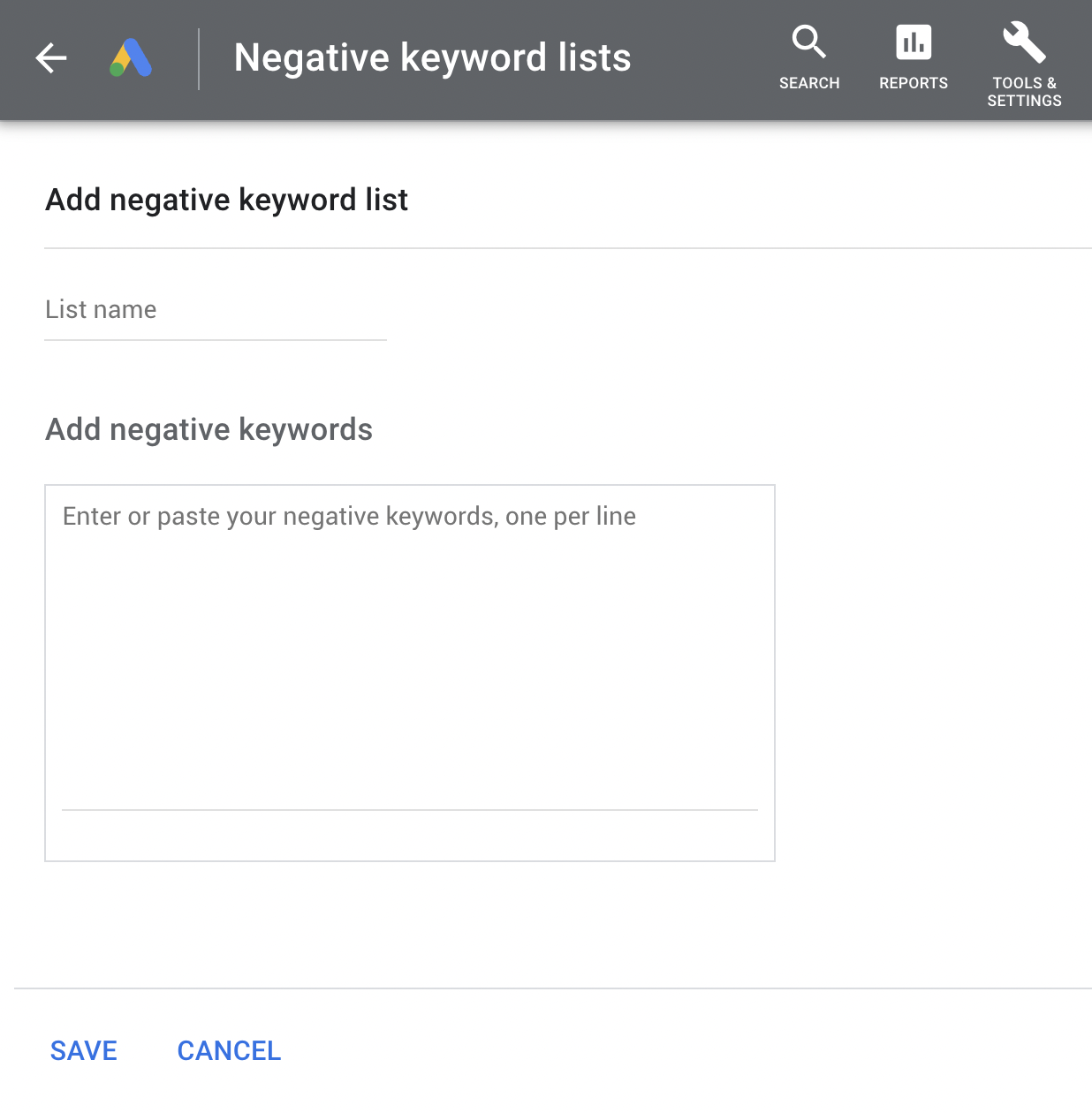 Let's use Bass Pro Shops as another example, running a group of campaigns around different types of fishing rods.
Our Great White Shark—the big kahuna—is the first line of defense, eating unwanted search results by feeding off the universal level negative keyword list.
Common universal negative keywords
free
cheap
craigslist
eBay
how to use
torrent
torrents
what is
when
youtube
Those common words and phrases exclude information-based searches, making your ads more likely to appear in searches with buying intent 👈 🤑
Some common negative keywords like book, books, dvds, and gift/gifts, may not be a good fit for this particular universal negative keyword list. Why? Because Bass Pro Shops sells literature and video materials in their "Home & Gifts" section and they'd want to reach those users.
Additionally, Bass Pro Shops might want to run an ad about the rods on sale, discounted rods, and clearance rods when they get next year's models. In that case, some keyword terms relative to pricing shouldn't make this negative keyword list.
But because these negative keywords aren't related to the standard fishing rod campaigns, we'll place them in our negative keyword list and apply that list to exclude all campaigns.
Grey seal – multi-campaign level negative keyword list
Negative keyword lists at the multi-campaign level apply to more than one campaign—but not all of them.
This level is for general negative keyword lists; they're a little too specific to apply to everything universally.
Multi-campaign level negative keyword lists (breathe, that's a long word) make sure you don't exclude certain campaigns, like a broad match keyword campaign that mines new search terms to extract.
Back to Bass Pro Shops.
Some campaigns focus on different types of fishing rods like casting rod, saltwater rod, species-specific rod, or a spinning rod. Negative keywords in this case would include other fishing gear.
Our seal eats up competing search terms like:
accessories
bait
baits
boat
boating
boats
clothes
clothing
hats
hunting
lures
reels
shoes
vests
Apply this list to a number of campaigns, specifically to the four different campaigns for each type of fishing rod.
You get even more specific on the next level down because you still don't want different types of rods showing up outside of the rods you feature in your campaign.
Let's individualize your campaigns to specific products with the octopus of the food chain.
Octopus – individual campaign-level negative keywords
Specify negative keywords for an individual campaign to differentiate two campaigns based on a similar product or service but with different features.
Let's use our fishing rod campaign as an example and focus on the spinning rod for an individual campaign.
We don't want other rod ads triggering during our spinning rod campaign because that causes competition between our campaigns. So we'll add the other rod types to a negative keyword list for this particular spinning rod campaign.
Our octopus will eat those search results for other types of rods, like:
casting
saltwater
trolling
bait
species-specific
So far, everything's gone swimmingly. But things get a little complicated in the next level down.
There's lots of search term differentiation to consider relative to your keywords. To cancel them out, you'll list them as negative keywords at the ad group level.
Ad group-level negative keywords reduce internal competition by making sure your short tail keyword (spinning rod) doesn't steal impressions from your long-tail keyword variants (Fenwick Eagle Travel Spinning Rod).
Crab – ad group level negative keywords
The ad group level is the most specific negative keyword list. At this level, it's important to use negative keywords to stop your different ad groups from competing with each other. Here at KlientBoost, we do not recommend this level of negative keywords but we wanted it to give you all of your options.
Negative keywords stop shorter tail keywords from stealing impressions.
Our advice?
Go granular and create ad groups using SKAGs (single keyword ad groups).
SKAGs are ad groups that have only one keyword. They take a bit of time to set up, but SKAGs are a huge advantage because they create a search term to keyword ratio of 1:1. That means when a searcher looks for "spinning rod," if one of the single keyword ad groups for our spinning rod campaign uses negative keyword match types (broad match, phrase match, or exact match), the spinning rod ad will show as a result (and it won't appear for other variations of keywords).
Capiche?
At this level, there will be more negative keywords than positive keywords for our crab to eat in our spinning rod campaign.
We'll create different ad groups for different brands of spinning rods to define the crab's diet.
We'll start with a root keyword ad group for all Fenwick Spinning Rod products.
Then we'll create a second keyword ad group for the spinning rod that Bass Pro Shops sells that sounds the most badass: the Fenwick Eagle Travel Spinning Rod.
SKAG #1 (short-tail root keyword ad group): Spinning Rod
We don't want other spinning rod brands that Bass Pro Shops carries to show up as results when we're pushing the Fenwick Eagle Travel Spinning Rod. To ensure that doesn't happen, we'll add other brands as ad group-level negative keywords.
For this SKAG, our crab eats other brands and specific models. Here's what the ad group level negative keywords list looks like:
Bass Pro Shops
Abu Garcia
G. Loomis
Berkley
Fenwick
Shakespeare
Eagle Claw
Browning Fishing
Duckett Fishing
Lew's
St. Croix
Temple Fork
Eagle Travel
Methods
HMG
HMX
AETOS
The goal is to only show our ad for generic spinning rod searches. If someone searches for a specific spinning rod brand, we'll create a new SKAG for that.
That stops ads running under the spinning rod campaign from triggering even though they have "spinning rod" in them.
This SKAG targets buyers who know they're looking for a Fenwick spinning rod, but they forgot the model or don't know which model they want yet—they just know they like Fenwick spinning rods.
From there, we'd create a second single keyword ad group.
SKAG #2 (specific model): Fenwick Eagle Travel Spinning Rod.
What's great is that all the search terms our octopus ate at the campaign level still apply to this level, but our crab for this SKAG (the specific spinning rod model) will eat a variation of words from our first SKAG, spinning rods.
Tip: Learn more about KlientBoost's SKAG approach if the SKAG concept is still a little fuzzy.
Clam – negative keyword match types
Down to the lowest level of the food chain.
Here, we talk about negative keyword match types and how they exclude irrelevant search terms broadly or tightly.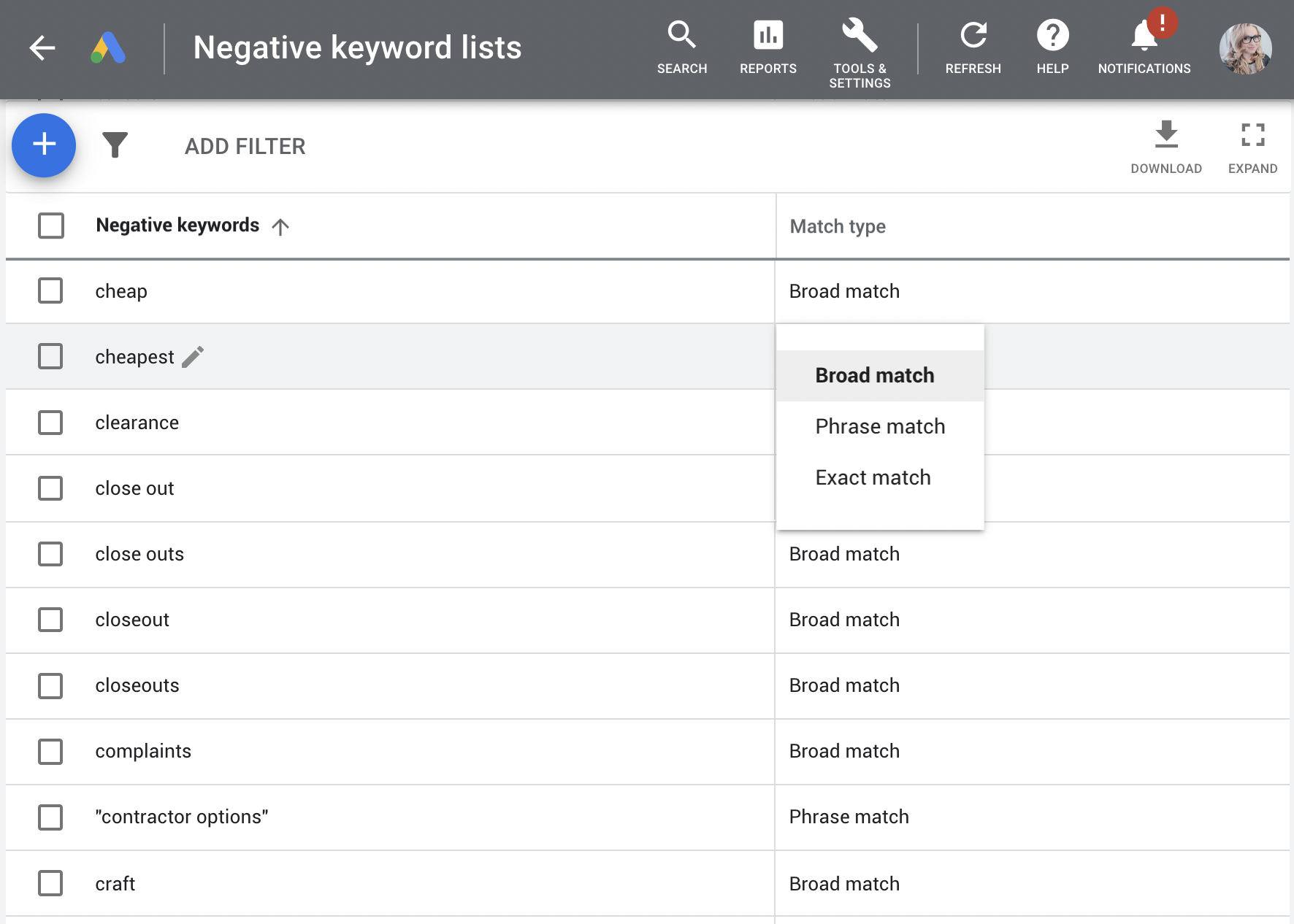 There are three match types when it comes to negative keywords:
Negative broad match keywords exclude the greatest amount of irrelevant searches.
Negative phrase match keywords exclude a lot of irrelevant searches but not as many as broad match.
Negative exact match keywords exclude the least number of irrelevant searches (because the search term has to match the negative keyword exactly).
That's a wrap on the negative keywords food chain—that's a lot of food for one day.
Negative keywords boost conversion rates
A lot of work goes into campaign optimization.
You need to figure out how to match your ad keywords to search terms, make smart bids, and separate different products or services into ad groups under search campaigns. And then, on top of that, there are negative keywords to worry about, and with all the different types of negative keywords out there, it's easy to get disorganized.
But the food chain concept divides negative keyword opportunities into leveled tiers (of search term prey) to keep your options straight and make it easier to be a negative Nelly.
Our post about SKAGs ties everything together, but implementing this food chain breakdown of negative keywords will do wonders for your conversion catch rates.
Get it? Conversion 🎣 catch rates 👆… 🥁 ba dum tsss 😬
In our next article, we flip over to positive keywords and break down keyword research using one of our favorite keyword tools, the Google Keyword Planner.